Immortal Combat
(1993)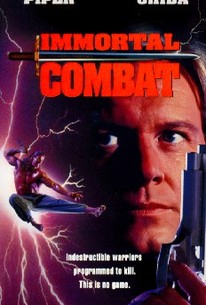 AUDIENCE SCORE
Critic Consensus: No consensus yet.
Movie Info
Careful, parents: this one's Immortal Combat, not Mortal Kombat. And it's R-rated, too. Even so, the young fans of wrestler Rowdy Roddy Piper will probably find some way to get this on their TV screen. Together with the equally musclebound Sonny Chiba, Piper takes on a battalion of seemingly indestructible martial-arts bad guys. The lovely and talented Meg Foster supplies acting relief (well that's not really fair; Piper and Chiba are very good at what they do).
Critic Reviews for Immortal Combat
There are no critic reviews yet for Immortal Combat. Keep checking Rotten Tomatoes for updates!
Audience Reviews for Immortal Combat
Judging this movie from the extremely cheezy bad acting in the opening scene I expected to HATE this movie.It wasn't as bad as I thought it was going to be but it wasn't all that great either.Judging this movie from it's name, I thought it would be about 2 cops travelling to a mysterious island to find their partner's killer & end up being forced to fight in an underground fight league or something similar to Mortal Kombat.After Rowdy Roddy & his partner walked into the mansion, started fighting & got caught up in the fight contest, Rowdy Roddy did what he did best, he got Rowdy!!! My favorite parts of this movie were the fight scenes where he got to fight (I just wish there were more of them) The movie would've been way better if it were about an underground fight league or had more fighting.I wouldn't say Immortal Combat was boring but there are times where it seems to.......... lag (I guess you could say) It's worth watching at least once especially if you're a fan of Rowdy Roddy Piper, a HUGE pro wrestling fan like I am (Of course) or just looking for something cheezy to watch
Brody Manson
Super Reviewer
Immortal Combat Quotes
There are no approved quotes yet for this movie.