Immortality
(2000)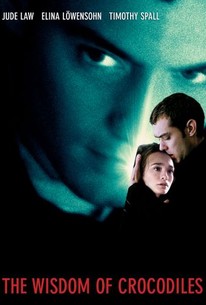 Movie Info
This obscure British production by veteran Hong Kong director Po Chih Leong stars Jude Law and was released just before Law garnered acclaim for his role in The Talented Mr. Ripley. Law plays Stephen Griscz, a multi-talented mystery man with an intoxicating appeal to women. Though he is dashing and urbane, every woman he woos ends up dead. Griscz's trail of dead female bodies is being investigated by police inspector Healey (Timothy Spall). Anne Levela (Elina Lowensohn) is a strong-willed engineer who seems to be a match for Griscz. But Griscz is actually a vampire who can only be returned to human form when he finds the perfect woman. Anne appears to be that woman.
Critic Reviews for Immortality
Audience Reviews for Immortality
½
Not bad. I was able to put my immense dislike of Jude Law on hold long enough to watch this, (mainly as I was interested to see Elina Lowensohn in something other than Nadja or the Hal Hartley movies). This movie seems a little on the long side, even though it actually isn't, and an interesting spin on vampires is stretched a little thin, but on the whole, I didn't mind it. Elina, as always, adds a quirky presence to this. She is definitely an underrated actress. Jude Law is pretty good too, and I don't generally say that, have not really liked him in anything since Gattaca. Fans of the genre might enjoy this, although it is not especially violent and isn't a great deal of sex in it, which is unusual for a movie of this type. It is more of an arthouse take.
Nicki Marie
Super Reviewer
Very bizarre and very cheap looking. It's a straight-to-video in every way, but it's really interesting for some reason. It's essentially Jude law running around seducing girls and being a vampire. I just honestly have no idea what was going on here with the plot, it seemed like they were trying to update Dracula but I can't be sure.
Conner Rainwater
Super Reviewer
½
This was actually a bit of a surprise. I was expecting absolute crap, and got an actually half decent film. The acting was good, especially Jude, and the story was at least different from most films.
Immortality Quotes
| | |
| --- | --- |
| Steven Grlscz: | Everything hidden is theft. |
| | |
| --- | --- |
| Steven Grlscz: | Difficult, isn't it, doing the right thing? |
| | |
| --- | --- |
| Steven Grlscz: | I'm doing research on how extreme emotional staes can cause the body to form crystals. |
| | |
| --- | --- |
| Anna Levels: | I don't judge a book by its cover, I never look before I leap, I know that some things are better left unsaid, and that worrying is the devil's favorite pastime. |