The Importance of Being Earnest
(2002)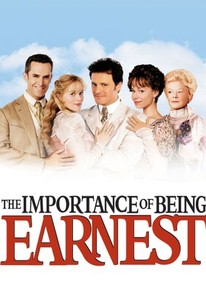 TOMATOMETER
AUDIENCE SCORE
Critic Consensus: Oliver Parker's adaptation of Oscar Wilde's classic play is breezy entertainment, helped by an impressive cast, but it also suffers from some peculiar directorial choices that ultimately dampen the film's impact.
The Importance of Being Earnest Photos
Movie Info
Two young gentlemen living in 1890's England use the same pseudonym on the sly, which is fine until they fall in love with women using that name, which leads to a comedy of mistaken identities.
Critic Reviews for The Importance of Being Earnest
Audience Reviews for The Importance of Being Earnest
This adaptation of the classic play is a very nice tribute, keeping the dialogue and characters, very close to home. What I must comment on, is that the settings and outdoor scenes felt a little understudied. There is a particular scene that should have taken place in the living room, but ended up displaying it outside as Cecily climbs down a ladder. I absolutely love the story of how two friends meet a love of their life, and are both disapproved by someone or another. It is such a funny idea to have both girls in love with the name earnest, while figuring out that both men calling themselves Earnest, do not even helm that proper name. The overall story is a brilliant little tale that I will probably refer to for a long time, and the play does portray the substance with perfection, but the few scenes of dumb humour, the set locations, the al bait too short running time, and odd take for direction, slightly degrades the effectiveness that the play brought upon. However, I highly enjoy this film, and I would have no problem recommending it to anyone, even if that haven't read the play!
Cast: Rupert Everett, Colin Firth, Frances O'Connor, Reese Witherspoon, Judi Dench, Tom Wilkinson, Anna Massey, Edward Fox, Patrick Godfrey, Charles Kay Director: Oliver Parker Summary: In this adaptation of Oscar Wilde's witty play about mistaken identities, Rupert Everett and Colin Firth star as two proper gentlemen in 1890s London who use the same pseudonym with disastrous results. At a country estate, they fall in love with two ladies -- Cecily (Reese Witherspoon) and Gwendolyn (Frances O'Connor). But the hilarious confusion that ensues from their noms de guerre could sink their respective chances at romance. My Thoughts: "The movie was as silly and humorous as it was intended to be. The film is filled with a very talented cast of actor's from Colin Firth to Judi Dench. Loved the costumes and the scenery. It was an enjoyable film, but not something I would probably watch a second time."
♥˩ƳИИ ƜѲѲƉƧ♥
Super Reviewer
½
This movie has its moments, but despite an excellent cast the attempts to jazz up the content detracted rather than added to the enjoyment. The whole pre-Raphaelite fantasy thing creaked like a rusty door. The wit and charm of the original play still pokes through with Firth, Dench, Wilkinson, etc. doing what they can, but these are almost obscured by this schoolboyish attempt to try a new angle.
Cynthia S.
Super Reviewer
The Importance of Being Earnest Quotes
| | |
| --- | --- |
| Lady Bracknell: | Never speak disrespectfully of Society,Algernon. Only people who can't get in do that. |
| Lady Bracknell: | Never speak disrespectfully of Society, Algernon. Only people who can't get in do that. |
| | |
| --- | --- |
| Miss Prism: | In matters of grave importance, style, not sincerity, is the vital thing. |
| | |
| --- | --- |
| Dr. Chasuble: | Your brother Earnest is dead? |
| Jack Worthing/Earnest: | Qite dead. |
| Miss Prism: | What a lesson for him! |
| | |
| --- | --- |
| Lady Bracknell: | To lose one parent, Mr. Worthing may be regarded as misfortune. To lose both can be regarded as more like carelessness. |