Impostor
(2002)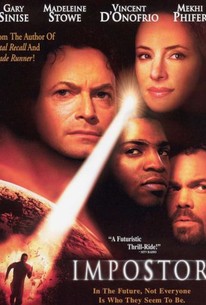 TOMATOMETER
AUDIENCE SCORE
Critic Consensus: With its low production value and uninspired direction, Impostor comes off as a mixture of The Fugitive and Blade Runner, only not as good or as involving.
Movie Info
The year is 2079. The earth has been at war with an alien force for over a decade. Spencer Olham is a lauded government scientist whose latest work promises to save the planet. But suddenly he is accused of being an alien spy, and becomes the subject of a nationwide manhunt. Olham is faced with a two-tiered dilemma- can he prove his identity to the secret police in time to help mankind? Can he ultimately prove his identity to himself?
News & Interviews for Impostor
Critic Reviews for Impostor
Audience Reviews for Impostor
½
An intense action thriller, Impostor is an impressive science fiction tale from Philip K. Dick. Based on a short story, a government scientist named Spencer Olham is accused of being an alien replicant and goes on the run in order to find a way to prove his innocence. Gary Sinise and Madeleine Stowe lead the cast and deliver fairly good performances. The special effects are also rather good (all things considered), and create a unique dystopian future. Additionally, the material is quite relevant in its dealing with themes of terrorism and police powers in wartime. Impostor has some issues, but the sci-fi themes are handled quite well.
Dann Michalski
Super Reviewer
½
i really enjoyed this movie it hasnt been given enough credit to be honest i like the the way its been set and the year its funny and action packed and with a twist the ending is a bit disappointing but the thing with a lot of films is that the entire film is brilliant and then they sort of run out of time towards the end so they rush it but neverthe less worth a watch!
Film Crazy
Super Reviewer
½
Weapons designer Gary Sinise finds himself on the run in a warring future state after being accused of being an alien spy. Yet another potboiler based on a Philip K. Dick short story, Impostor doesn't really have the depth or invention to satisfyingly explore the source material's themes of identity and sense of self. It does however have some nice effects and production design, and a cast that although lacking in big name stars, does have enough in the way of solid character actors to keep you watching, including Vincent D'Onofrio, Tony Shalhoub and Madeleine Stowe. The rather straight to DVD style direction and unimaginative plot (it's basically just a long chase sequence) means it will win no prizes for originality, but taken as a no frills sci-fi B-movie it has enough action and twists to pass 80 minutes inoffensively enough. Nowhere near the best Philip K. Dick adaptation, but far from the worst.