Impromptu
(1991)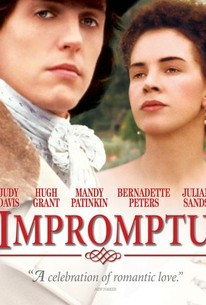 Movie Info
Judy Davis stars as French novelist George Sand in this romantic comedy, set among a loose-knit society of writers, artists and composers living in mid-19th century Europe. After converging on the country estate of the Duke and Duchess d'Antan (Anton Rogers and Emma Thompson), Sand and her friends--poet Alfred DeMussett (Mandy Patinkin), painter Eugene Delacroix (Ralph Brown), and composers Franz Liszt (Julian Sands) and Frederic Chopin (Hugh Grant)--spend their summer coping with romantic folly and enriching the tastes of their hosts.
Critic Reviews for Impromptu
Audience Reviews for Impromptu
½
"Impromptu" is fun to watch. Even more impressive is that it is based on fact.
George Sand courts Chopin amid 19th Century social conventions including duels and the oppression of women. A lush costume drama with strong performances by Judy Davis and Mandy Patinkin, Impromptu has all the trappings of a Merchant/Ivory production. Its sly wit and subtle conflicts are always engaging, but what sets this film apart from some of the - for lack of a better word - boredom of Merchant/Ivory's work is the performance by Patinkin. Riding into a woman's bedroom on a horse, drunkenly shooting the officiant of a duel, and a garrulous braggart demeanor, Patinkin injects some energy to a film that desperately needs it. Davis's portrayal of George Sand is believable; no actress can capture Sand's masculine guise and still retain a strain of femininity like Davis. What bothers me about the film is how the story ends up reinforcing the gender conventions of the time. George Sand pursues Chopin in a hybrid of a masculine assertiveness, but her eventual victory comes with subverting her desires to what's required of a typical female in the 19th Century. Even the man, Chopin, rows the boat in the final montage of coupledom bliss. Overall, I liked Impromptu for Patinkin and Davis, but George Sand, a revolutionary feminist figure, deserved a better fate.
Jim Hunter
Super Reviewer
½
Suppose for a moment that the basis of all good art (or bad art for that matter ... let's just say Art) was the hot flush of Love's Sweet Call (or Lust for that matter). So then in Europe, in the early 19th Century, a famous collection of artists pursue one another with insane passion, their emotions the fuel for the works we know them by. Here's the unusual plot for a different romcom, a period piece about the rock stars of their day and there's not much to it more than rock has provided us: gender confusion and the usual romcom comedy of errors. There's good ideas here only not completely drawn out.
Kevin M. Williams
Super Reviewer
Impromptu Quotes
| | |
| --- | --- |
| George Sand: | I used to think I'd die of suffocation when I was married. Now it's freedom that's killing me. |
| | |
| --- | --- |
| Alfred DeMusset: | It's true. She's a cannibal. She would drink the blood of her children from the skull of her lover and not feel so much as a stomachache. |
| | |
| --- | --- |
| George Sand: | I am not full of virtues and noble qualities. I love. That is all. But I love strongly, exclusively, and steadfastly. |