Impulse
(2008)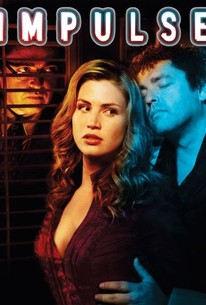 AUDIENCE SCORE
Critic Consensus: No consensus yet.
Movie Info
A woman seeking to revive the spark in her marriage inadvertently attracts the attentions of a stranger with a twisted concept of romance. Claire Dennison (Willa Ford) is a passionate beauty who has grown increasingly distant from her once-loving husband. But Claire is intent on arousing her husband's dormant desires, and plans an elaborate role-playing game in order to make that happen. At first it appears as if her husband is playing along as planned, but it doesn't take long for Claire to discover that she's playing with fire. The man she has attracted is in fact a total stranger, and by the time she tries to break things off it may already be too late.
Critic Reviews for Impulse
All Critics (3) | Top Critics (1) | Fresh (0) | Rotten (3)
we're merely left waiting to see when the Fatal Attraction plot points will finally take over and what creative way Kanganis will come up with next to get Ford out of her top.
April 27, 2008 | Rating: 2/5
...primarily resembles one of those late-night erotic thrillers that one occasionally stumbles upon while channel surfing...
Audience Reviews for Impulse
Enjoyable, if generic, thriller. A hot woman, Claire, who works in media wants to spice things up with her husband and eventually have kids but he's a bit on the boring side. One night at a hotel she sees a double of her husband and thinking its him finally spicing things up and playing some role playing game, Claire ends up shagging him. Later, after another sexy meeting, she finds out it's not her husband but it's to late and the man goes full on stalker, using the fact he looks exactly like Claire's husband to his advantage. Ok, so this hasn't got enough sex in it to be deemed an "erotic thriller" so is more just a slightly entertaining thriller with passable performances and a decent enough plot to keep you interested. Plus Willa Ford has a great pair of tits. Not exactly great but there are worse films you could spend 90-odd minutes watching.
Impulse Quotes
There are no approved quotes yet for this movie.