In America
(2003)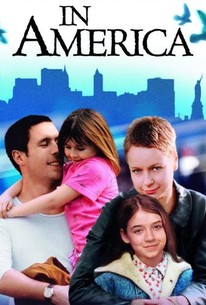 Movie Info
To begin all over again is a classic American dream. But it is remarkably hard to do, as Irish immigrants Johnny and Sarah discover when they hit New York City, with their two spunky young daughters, in the mid-1980s. In pursuit of a dream, the family uses ingenuity and sheer strength of will to make the most of their new life. With no cash to spare, Johnny and Sarah settle into a chaotic New York tenement and attempt to turn the dilapidated setting into a true home. From dragging an iffy-looking air conditioner across Manhattan to finding make-do jobs, nothing comes without a fight for the couple. And yet, as they see America as rife with challenges, dangers and weirdness, their daughters see it as a magical place where anything can happen, a place that might release them from the anguish of what has come before. Then, on Halloween, the girls dare to knock on the door of "the screaming man," a reclusive neighbor named Mateo, and everything changes. As the family heads for a crisis, Mateo becomes their unlikely ally in the territory where hope, faith and even magic hold sway.
Critic Reviews for In America
Audience Reviews for In America
Does a great job in introducing this lovely Irish family moving to New York with just a handful of scenes. From that point on it's hard not to be moved by the funny and sad things they go through. Awesome acting, especially the two little girls are adorable, Djimon Hounsou is great as always. Wonderful feel-good movie with quite a few really moving scenes.
½
A touching, moving, deeply personal story of an immigrant Irish family who moves to America searching for happiness and a fresh start despite living in horrible circumstances. Instead of drifting into weepy melodrama where everything horrible that could happen happens, director Jim Sheridan gives this movie such a touch of warmth that it feels more like a surrealistic fairy tale rather than an edgy drama. The results are spectacular, and the acting could not be better, from the stupendous real-life Bolger sisters to the regular powerhouse performance Djimon Hounsou always seems to bring rather effortlessly. A remarkable picture, a positive one, with a tear-jerking finale that does not feel overdone. A movie that I will definitely want to rewatch through the years.
Dan Schultz
Super Reviewer
Great child actors, and the rest of the cast are obviously good, but the cheap stupid melodrama of the script will kill your brain cells faster than a bottle of cheap vodka.
Tsubaki Sanjuro
Super Reviewer
In America Quotes
There are no approved quotes yet for this movie.