In & Out
(1997)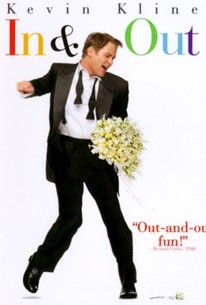 TOMATOMETER
AUDIENCE SCORE
Critic Consensus: It doesn't always find comfortable ground between broad comedy and social commentary, but lively performances -- especially from Kevin Kline and Joan Cusack -- enrich In & Out's mixture of laughs and sexual tolerance.
Movie Info
Life is sweet for high-school English teacher and sports coach Howard Brackett (Kevin Kline); he's still living where he grew up, he has a good relationship with his father (Wilford Brimley) and mother (Debbie Reynolds), he's respected by his community, and he's about to marry Emily (Joan Cusack), his fiancée of three years. Fearing she was about to become an old maid, Emily has shed 75 pounds for the upcoming nuptials. But first, the entire town of Greenleaf, IN, settles in to watch the Academy Award telecast, because young stud star Cameron Drake (Matt Dillon), who attended Greenleaf High, has been nominated for an Oscar. What's more, he wins, and in his acceptance speech, singles out Howard -- and announces his favorite teacher is gay. Everyone in town is thunderstruck, including Howard himself. The media descend on the town, particularly Peter Malloy (Tom Selleck), whose job is hanging by a thread. Even worse, Howard's principal Tom Halliwell (Bob Newhart) is shaken by the news, and is toying with firing Howard. The beleaguered teacher tries to convince everyone (and himself) that he's as straight and macho as the next guy; he even tries to follow the rules on a motivational tape, "Be a Man." But his fondness for Barbra Streisand, his theatrical mannerisms, and the fact that he and Emily have yet to make love make everyone's eyebrows stay permanently raised. Meanwhile, out in Hollywood, Cameron, who's really a decent guy, learns about the problems his impulsive comment has caused, and heads back to Greenleaf to see what he can do to help. Howard's mother is fiercely determined to see at least one of her two sons wed -- Walter (Gregory Jbara), the other, is a doofus -- and as the wedding date draws nearer and nearer, poor Howard's life flies even farther out of control. ~ Bill Warren, Rovi
Critic Reviews for In & Out
Audience Reviews for In & Out
A joyful and hilarious coming out of the closet party with a cant-miss list of stars. A wonderfully enjoyable movie with a magnificent performance by Kevin Kline.
½
Emily: Is everybody gay? Is this a Twilight Zone? "An out-and-out comedy" In & Out is one of those movies I'm in-between on. It's not a film I necessarily liked, but I also would have trouble saying it was a bad movie. As far as the film goes, it's pretty well made and features a good performance from Kevin Kline and a pretty solid supporting cast. It all seemed so dull though, and the film had very, very few truly funny moments.  Howard Brackett is an English teacher who has been engaged for three years and plans on marrying her soon. When one of his former students wins the academy award for best actor, he makes an acceptance speech in which he thanks his gay teacher Mr. Brackett. This leads Howard to question his own sexuality, while the small, rural town goes crazy amidst the rumor and gossip. Will the wedding happen? Is Walter gay? And does anybody really care if he is? In & Out isn't a bad movie, it just wasn't my brand of comedy. It's worth a look if you think the story sounds interesting, and at the very least you'll see another good performance by Kevin Kline, plus one of Joan Cusack's funnier roles. In the end though, I could take this movie or leave it. It was easy to sit through, but it isn't anything I care to see again or anything I'll probably remember. 
Melvin White
Super Reviewer
½
Comedy about a teacher who is outted by his ex-pupil at the Oscars! Good cast. Funny scene where the girlfriend can't use the old fashioned phone. Kevin and Matt are good at comedies. Should make more!
Candy Rose
Super Reviewer
In & Out Quotes
There are no approved quotes yet for this movie.