In Caliente
(1935)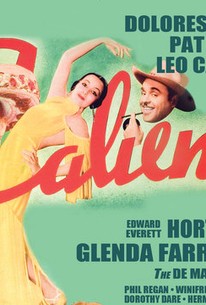 AUDIENCE SCORE
Critic Consensus: No consensus yet.
Movie Info
Per its title, this merry Warner Bros. musical was filmed on location in the resort community of Agua Caliente. Pat O'Brien plays magazine editor Larry MacArthur, whose scathingly negative review of tempestuous dancer La Espanita (Dolores Del Rio) has incurred the lady's considerable wrath. Through a fluke, MacArthur finds himself in Caliente, where he begins ardently pursuing the lovely Rita Gomez, not realizing -- at least at first -- that Rita and La Espanita are one in the same. Intending to humiliate MacArthur, Rita relents when she realizes she's fallen for him as well. Of the supporting players, only Edward Everett Horton is given any worthwhile material, and he makes the most of it. The Busby Berkeley dance numbers are okay, but the film's musical highlight is Wini Shaw's rendition of "The Lady in Red", followed by Judy Canova's semi-parody version of the same tune.
Critic Reviews for In Caliente
All Critics (3) | Fresh (3) | Rotten (0)
Some Spanish serenades, some moderately good dancing by Dolores del Rio... and just enough story to hold things together.
An average musical, made definitely superior for one brief moment by the presence of that peerless dance team, the De Marcos.
Audience Reviews for In Caliente
What a nice little surprise this was, and great showcase for Dolores del Río. The premise of a magazine critic (Pat Oâ(TM)Brien) being taken to Mexico while drunk by his business partner (Edward Everett Horton) to avoid being married (to Glenda Farrell) is a little silly, not unlike other screwball comedies. Itâ(TM)s made interesting by Horton trying to set Oâ(TM)Brien up with del Río in order that he forget Farrell, not remembering that Oâ(TM)Brien once panned del Río in a review and sheâ(TM)d like to get even with him. The little cat and mouse game she plays, assisted by her shrewd manager (Leo Carrillo) who regularly takes advantage of foreigners, is entertaining, and director Michael Curtiz moves things along well. We also get the incomparable Busby Berkeley and a couple of entertaining musical numbers in the second half of the film. The first of these, â~The Lady in Redâ(TM) includes wonderful vocals from Wini Shaw, sexy shimmying from the chorus, and an extended ballroom dance routine by Tony De Marco and Sally Craven (later his third wife), who were nearly as good as Fred Astaire and Ginger Rogers, if not on a par with them. Itâ(TM)s definitely one to watch. The second, âMuchachaâ(TM) is also pretty wild, with horses prancing up a staircase in addition to del Río singing and dancing. del Río is charming throughout the film, and itâ(TM)s refreshing that her character is intelligent, erudite, and elegant. Sheâ(TM)s a beauty in her evening gowns and the two-piece bathing suit that she helped pioneer, which we see plenty of in a long scene at the pool. She was on her way out of Hollywood a few years later which is a shame, though it really makes me want to check out her Mexican films from the 1940â(TM)s. I may be rounding up a bit because of her and Berkeley, but they made the film for me.
Antonius Block
Super Reviewer
In Caliente Quotes
There are no approved quotes yet for this movie.