In Enemy Hands
(2004)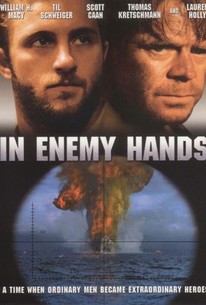 AUDIENCE SCORE
Critic Consensus: No consensus yet.
Movie Info
As Hitler's grip of fear continues to tighten during World War II, the capture of the U.S.S. Swordfish by a German U-boat leads to a brutal struggle for survival between axis and allies deep beneath the ocean surface. Following the capture of the U.S.S. Swordfish, the German crew soon begins to fall ill to a particularly powerful strain of meningitis, leaving the American prisoners-of-war obligated to work with the remaining German crew to keep the vessel from descending to the bottom of the ocean. Though they are able to cast aside their differences in the name of survival, the discovery that the ship has been located by a U.S. carrier forces the prisoners into a harrowing struggle for survival.
Audience Reviews for In Enemy Hands
I watched this to see William H. Macy. Not the greatest of movies, but not terrible. The German actors were mostly top-notch. Some of the American ones were pretty sad, however...Lauren Holly, especially. The story itself was interesting....
Cynthia S.
Super Reviewer
I rented it cause I wanted to see something else Scott Caan was in (other than the Oceans movies & Gone in 60 seconds) and I got a surprise.. Ian Somerhalder is in it LOL. Made in 2004 but looks more 90s. There?s subtitles as they are war with Germany in this. Scott Caan is on the cover as one of the stars of the movie & well? I won?t ruin it. Didn?t think it was great but didn?t hate it either. C
Kym (c my community profile) Ragarsson
Super Reviewer
In Enemy Hands Quotes
There are no approved quotes yet for this movie.