In Hell
(2003)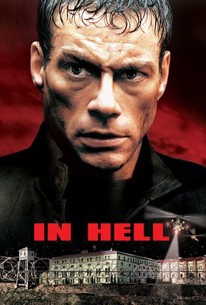 AUDIENCE SCORE
Critic Consensus: No consensus yet.
Movie Info
When Kyle LeBlanc (Jean-Claude Van Damme) is prosecuted for killing the man who murdered his wife, he is sent to the most notoriously violent prison in Eastern Europe, where brutality is an understatement. Guards force the prisoners into death matches for their own personal profit, and the already violent inmates are provoked until they're barely recognizable as human beings. Though Kyle initially holds nothing but contempt for his fellow cell mates, it isn't long before their rage takes root in his own mind. When it's his turn to fight, channeling that rage may be the only chance he has at survival.
Critic Reviews for In Hell
Audience Reviews for In Hell
[img]http://images.rottentomatoes.com/images/user/icons/icon13.gif[/img]
Directors Cat
Super Reviewer
½
An intense, compelling, savage and brutal thriller. A hard-core mixture of hard-hitting action and harsh character drama that hits the core. Jean-Claude Van Damme is strong, confident and very compelling. A shocker of a thrill-ride that has more substance than expected. A heart-pounding and action-packed film. One of Van Damme`s best roles and one of his best films ever.
"Don't let them do you into something you're not..." Van Damme. He is such a great actor... I long for the times, basically the 90's, when we the viewers were given such "classics" as 'Kickboxer', 'Bloodsport', 'Cyborg' and 'Universal Soldier'. Since those movies, all we've got is crap after crap. 'In Hell' is no exception... Damme plays a good guy who gets his wife murdered. He does the obvious thing any man would do and kills the guy. Gets sentenced in prison were he loses himself... Only to be found again. During the film. Damme looked like a "normal" guy, then when he was really down, he looked like a drunken Jesus and when he was a crazy son of a bitch, he looked like an Italian gigolo.. Sounds funny and was funny. 'In Hell' was, yet again, another failure by Damme. The film has no interesting story to be told, bad acting and action scenes that aren't anything special. I didn't know what to think about the characters. There was this one guy who was a crazy killer who was a bit too philosophical. Nothing but a comedic figure... Nothing special here. For those who still like to remember Damme as an action star from the 90's, stick to the films I mentioned in the beginning. Although, I'd like to see 'JCVD' which is out now. Here he tried to act... once again, but in 'JCVD', I heard that he is just himself.
In Hell Quotes
There are no approved quotes yet for this movie.