In Her Skin
(2011)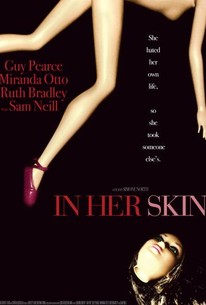 AUDIENCE SCORE
Critic Consensus: No consensus yet.
Movie Info
This is a true story: It's what every parent fears: their child not coming home when they're meant to. On the evening of March 1st, 1999 Rachel Barber, a fifteen year old student, doesn't climb off the tram to meet her dad, Mike. Elizabeth, her mother, and Mike bolt into action. This simple action-not coming home on time-is totally out of character. Something had gone wrong-something bad had happened to their daughter. Caroline Reed is nineteen and overwhelmed with self-hatred. Writing to her parents that she should have been aborted, she looks in the mirror and sees a fat, ugly, pimply, dirty misfit. Nobody likes her, least of all her father who ignores the barrage of mail she sends-a letter a day. Once Rachel's babysitter, Caroline has found an alter-ego that seems to fit neatly into what she wants to be: pretty, "a free-wheeling spirit", a confident, happy girl, a ballet dancer, the grand-daughter of famous Melbourne author, Ivan Southall. Caroline begins to stalk Rachel, noting her clothes, her movements. She applies for a new birth certificate. In Rachel's name-but with her address. Days roll by-a week passes. Elizabeth loses twenty kilos. Mike turns grey. Manni can't function. Almost two weeks later, a computer analyst with Missing Persons; DePyle, sees one of the posters on his way to work. Touched by the desperate effort of the parents he commences his own private investigation... it can't be official; there's no foul play. Will this crew unravel the mystery of Rachel's disappearance when the police are unwilling to? -- (C) IFC Films
Critic Reviews for In Her Skin
Audience Reviews for In Her Skin
The acting is terrifyingly bad, it's just so hard to watch these morons obviously are not impatient about finding out their daughter's whereabouts. Despite being inspired by a true story, the film is still very uninventive and boring. This low budget thriller proves films based on true stories can be really dull.
Sylvester Kuo
Super Reviewer
½
If it's true that the director claims "the film was made to give Rachel back her voice", I highly doubt that statement. It's more about Caroline than Rachel. And that's fine, but the pretense is offensive (just like a critic pointed out as to disguising the movie out as a true story rather than based on a true story). Apparently, the movie would have been boring had it been only about Rachel's "life", and not focusing on how she met her fate. A chilling story that's not so well told. The performances are okay, and the movie too could have been fine had they tried to tell the story more genuinely than relying more on technical expertise. Overall, just about watchable.
familiar stranger
Super Reviewer
Not a terrible movie. Just one that, unfortunately considering its based on a real event, isn't structurally sound nor is it that well written in some regards. And the ending is just absolutely shit in the sense that it almost tries to justify Caroline's actions by having her, for the first time in the movie, feeling good about herself at the end of the movie. The last shot is of Caroline looking better than ever smiling at the sky. What the fuck???? I don't know who decided to go with that as the ending, but they're completely retarded. At least switch the stuff around, have the Caroline stuff air BEFORE the family has the funeral, so there's that impact of what her actions have caused Rachel's family to go through, to at least give it some emotional weight. Having the Caroline scene at the prison last is just completely senseless and it takes away from what the movie should've really been about at the end and that's how, in a way, the family was driven closer together because of this madwoman's actions. Don't have the movie end with the killer feeling happy about her current situation. How incredibly stupid of them. Other than that, unfortunately, the movie isn't that well written so it almost feels like an above average TV movie. It feels like a movie you'd see on Lifetime and not something you'd actually pay to see. The movie is basically three stories in one: the family's side of her disappearance, the murderer's side of the events, and Rachel's side. And this is where the movie really falls apart, these segments on their own just don't gel at all. It's understandable that you'd like to get as much of the real story across, but at least do so if you know what you're doing. The movie has no flow, one scene you could be watching the parents dealing with the disappearance and the next scene will be Caroline four years prior to the murder. It just didn't mesh well together and that really made the movie a disaster. The reason this movie gets 2 stars is because of Ruth Bradley's performance, she was fantastic with the crap she was given. She was really quite convincing as a person who had SEVERE emotional issues who could lose it at just any moment. To the point that I believe that Ruth must have some pent up frustrations that she got to let out in this role. If it wasn't for her, I don't know how bad this movie would be. I wouldn't even say it would have been bad, because the rest of the cast was decent enough, it was just an incompetently put together movie. But Ruth Bradley was really the highlight of an underwhelming, unfortunately so, movie.
Jesse Ortega
Super Reviewer
In Her Skin Quotes
| | |
| --- | --- |
| Caroline Reid Robertson: | Today was the end of my life. |
| | |
| --- | --- |
| Rachel Barber: | If you really wanted to lose weight, you would dance. |
| | |
| --- | --- |
| Caroline Reid Robertson: | It'll be painful, difficult, but I'll change.....I want to be happy. |
| | |
| --- | --- |
| Caroline Reid Robertson: | I used to think of you as my friend and sometimes you hurt me so badly--I wish you were dead! |