In Search of a Midnight Kiss
(2008)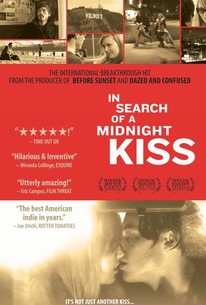 TOMATOMETER
AUDIENCE SCORE
Critic Consensus: Funny, quirky, and bittersweet, In Search of a Midnight Kiss is a romantic comedy with a heart and a brain -- and stands as a sharp debut for director Alex Holdridge.
In Search of a Midnight Kiss Photos
Movie Info
Twenty-nine-year old Wilson has just had the worst year of his life. He is new to Los Angeles; and onthis special night; he has no date, no concrete plans and every intention of locking the doors and forgetting that the past year ever happened--that is until his best friend, Jacob, browbeats him into posting a personal ad on 'Craig's List'. When Vivian, a strong-willed woman hell-bent on being with the right guy at the stroke of midnight responds, a chaotic, comedic journey through streets of L.A. begins.
News & Interviews for In Search of a Midnight Kiss
Critic Reviews for In Search of a Midnight Kiss
Audience Reviews for In Search of a Midnight Kiss
Okay, like others, I found the characters to be insultingly banal and nearly turned this off part way in. A lot of over-the-top cussing seemed a lazy way of spicing up the film. But at some point, this viewer began to find sympathy for the characters. Yes, the script is unpolished. Yes, the actors are not ever going to find work in studio Hollywood. And, yes, the story is a little bit hokey. But so help me, it works on some level. I think the turning point was the psychotic ex-boyfriend and his hilarious rant over what he was going to do to Wilson (Scoot McNairy). (Scoot? Really? I mean, seriously? What kind of name is Scoot?) At that point, this viewer was ready to give in to the madness and let this puppy take me wherever it seemed to be heading. Think Nick and Norah's Infinite Playlist, but with Craigslist as the cupid, and New Years Eve in LA as the backdrop. This one goes it one better with a bittersweet ending that makes as much sense as the rest of it. I think I liked the music better here, too. (Watched in December, 2009)
Mark Abell
Super Reviewer
½
Despite the fact that In Search of a Midnight Kiss was shot with that cheap digital video that I HATE, HATE, HATE, (seriously, I let out an audible sigh every time I realize that the movie I'm about to see uses it) I found it to be pretty enjoyable. Refreshing, even. It's a tale of loneliness, Los Angeles, and New Year's Eve. Depressed and lonely Wilson puts an ad on Craigslist at the bidding of his best friend, in a last-ditch effort to not be alone on New Year's Eve. The ad is answered by an aspiring actress named Vivian, and the two of them meet and spend the rest of the day in a long, rambling, eventful date that takes them through various parts of Los Angeles. It's actually a lot cooler than I make it sound. Sort of a drama and a realistic comedy, with the ups, downs, joys, and uncertainties of a real relationship condensed into the events of one night. There's genuine chemistry between the two leads, and the whole thing feels surprisingly genuine, if you let yourself get into it. Crappy video aside, this is a movie that I'd recommend to anyone, be they romantic or jaded.
This was really a great little movie. I wasn't expecting much of it at all, small film with no one I've ever heard of in it, but it really exceeded my expectations. I actually would have scored it a little higher if the ending had been different, but then again, can't fault something for being true to life. This reminded me a lot of Before Sunrise as most of it is just two people walking around getting to know each other and revealing things about their lives. The two leads are so good that it never comes across as dull and the Vivian character is originally so horrible that it is a credit to them that everyone doesn't just switch off. One interesting thing is that it seems that it was originally black and white, but for whatever reason, the Dvd release (in Australia, anyhow), is in colour. I did notice at times that the film looked very blocky, but put it down to a bad transfer. I have to say, I generally really like black and white films, but in this case, it was odd to see the trailer in black and white and I think I actually prefer the colour here.
Nicki Marie
Super Reviewer
In Search of a Midnight Kiss Quotes
There are no approved quotes yet for this movie.