In Secret
(2014)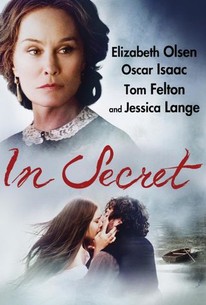 TOMATOMETER
AUDIENCE SCORE
Critic Consensus: Although it benefits from a strong cast, In Secret's stars can't totally compensate for the movie's sodden pacing and overly familiar story.
Movie Info
Based on Émile Zola's scandalous novel, Thérèse Raquin, IN SECRET is a tale of obsessive love, adultery and revenge set in the lower depths of 1860s Paris. Therese (Elizabeth Olsen of "Martha Marcy May Marlene"), a sexually repressed beautiful young woman, is trapped into a loveless marriage to her sickly cousin, Camille (Tom Felton of the "Harry Potter" franchise), by her domineering aunt, Madame Raquin (two-time Academy Award winner Jessica Lange). Therese spends her days confined behind the counter of a small shop and her evenings watching Madame play dominos with an eclectic group. After she meets her husband's alluring childhood friend, Laurent (Oscar Isaac of "Inside Llewyn Davis"), she embarks on an illicit affair that leads to tragic consequences. (c) Roadside
News & Interviews for In Secret
Critic Reviews for In Secret
Audience Reviews for In Secret
I don't generally like period pieces, but this was very well done. Incredibly dark story of a little orphaned girl who is married off to her guardians sickly and dopey son. Elizabeth Olsen and tom Felton are both outstanding. The sexual obsession between the girl and the family friend is compelling as you can just see it is going to turn bad and it sure does. Half way through, a plan is decided to dispose of the husband and then it's a fast unraveling for all involved from there. At 1 half hours it doesn't wear out its welcome either, as this genre often seems to.
Nicki Marie
Super Reviewer
½
It seems like anyone who hooks up with Elizabeth Olsen lately is in for a horrifying revelation, as we're seeing with "Oldboy" and now this, which, beyond that, is not to be compared to "Oldboy", especially when it comes to entertainment value. Yup, I'd say that making an independent period piece set in Paris seems to be a very effective technique in making an erotic thriller rather dull. You know, I can't help but get the feeling that Tom Felton has a big enough secret to keep in real life, because he looks as though he's left Hogwarts very well aware of how to work a wand, if you catch my drift. I'm kidding, because, seriously, Felton can't be that gay if he's married to Elizabeth Olsen, but then again, that's in the acting business, where Neil Patrick Harris made for quite the convincing womanizer on "How I Met Your Mother". At any rate, the dude is getting his lady taken from him, and he should have seen that coming if his competition is Llewyn Davis, because, I'm telling you, the chicks dig a musician. Sure, he was a folk musician, but that had to have made him, like, Mick Jagger back in the 1860s, where they must not have had an especially high standard for exciting artistry, according to this film. Yeah, I like the film a fair bit, but it does tend to drag its feet, no matter how much it tries to save time with expository shortcomings. The degree of depth to characterization which a drama this intimate should thrive on is questionable, as there is a certain stereotypical thinness to the drawing of certain roles beyond the leads ones, which are still considerably undercooked, especially when it comes to motivations. A lack of background to the characters make it hard to get invested in them, and their conflicts and dramatic actions are hard to get invested in because they're not quite as fleshed as they probably should be, even though no amount of development of notable aspects in the context of storytelling can completely overshadow histrionics. Now, to be based on a 19th century melodrama, this film is surprisingly genuine, although that might simply be because the histrionics are so prominent that you've not choice but to embrace them in the context of this narrative, at least until subtlety issues lapse, distancing believability which in turn further distances one's investment. Dramatic storytelling gets a little carried away at times, and it's not even consistently unique, for although there are enough twists to this period drama's structure for me to question if a lack of originality is as big an issue as many are making out of it, there really is nothing especially unique about this plot, which hits the usual, predictable beat and path, and drags its feet along the way. Developmental shortcomings and perhaps even natural shortcomings rank among the biggest factors in holding the final product back, and also up there is the dragging which helps this film cut through the thinness to a length of just shy of 110 minutes by incorporating meandering material after meandering material, all backed by an expected dryness to Charlie Stratton's direction which further retards momentum in the tight grip of limpness which dull matters down, occasionally to a crawl. Now, my big fear would be that this film would be very often, well, boring, and it's not that, but not either is what I was hoping it would be: a more fleshed out and fresh drama with enough steam and resonance to transcend underwhelmingness. The final product doesn't even manage to come to the brink of rewarding, but there are a number of occasions in which it does, with the help of engaging strengths, many of which keep consistent throughout this at least handsome affair. The film is at least aesthetically solid, with art directors Jasna Dragovic, Kai Koch and Tibor Lázár restoring 1860s Paris handsomely, or at least with an immersion value that seems handsome before the cinematography by Florian Hoffmeister, whose efforts are as remarkable as anyone's with its absolutely mesmerizing emphasis on specific lighting which almost gothically stresses the bleak in contrast with the hauntingly crisp. The film is gorgeous, and there are times where it's extremely difficult to adequately express that, thus, aesthetic value stands out about as much as, if not more than anything, often to the point of actually supplementing the substance of this drama through style. Newcomer Charlie Stratton's direction is ambitious, though not in a flashy manner, but rather, in a thoughtful manner that actively limps momentum, which all too often slips too far, to the point of a certain blandness, maybe even dullness, yet still manages to hang in their enough to never fully lose engagement value, augmented considerably when Stratton's writing provides material to draw upon with the meditativeness. Stratton's efforts as both writer and director meander, uncertain of how exactly to approach this subject matter, but when inspiration is realized, the depth of this minimalist drama is with it. Émile Zola's "Thérèse Raquin" is a classically audacious and scandalous story of betrayal for the sake of justifying sin, and although the plot is a little minimalist to begin with, and has come be dated as formulaic in the context of a new interpretation, it is juicy, with a potential for tension and resonance that is done some justice at times, despite a lack of intimacy that it never lost, thanks the inspired performances. The cast is strong, and delivers as best it can, with Tom Felton - as a well-intentioned, but flawed young man who fears that he is falling short on his role as a man - and Oscar Isaac - as a passionate man whose love drives him to horrible deeds he comes to regret once the fruits spoil - marking compelling highlights in a supporting cast that Jessica Lange stands out from in a devastatingly committed portrayal of a woman who slowly, but surely deteriorates under the vicious pressure of trauma deriving from tragedy while Lange grows more and more stellar, though not to where she can overshadow the beautiful Elizabeth Olsen, who leads the drama in an also powerfully layered performance that utilizes rich nuance and penetrating emotional range in order to sell the heartbreaking changes in a woman who finds liberation in a sinful love whose horrifying twists come to haunt and gradually destroy her. The acting ranges from engrossing to absolutely amazing, so if you see this film for no other reason, see it for moments of outstanding demonstration of skill within a cast that still can't carry the final product far enough to even border as rewarding, yet nonetheless joins a number of commendable elements in crafting a reasonably compelling, if sadly thin dramatic thriller. With the cover(s) blown, character depths and motivations feel too undercooked to justify certain melodramatics, while predictability and often dull meanderings further limp things down, until the final product is secured as quite underwhelming, in spite of the immersive art direction, gorgeous cinematography, biting storytelling highlights, and often mesmerizing acting - the strongest of which being by show-stealer Jessica Lange and show-carrier Elizabeth Olsen - that make Charlie Stratton's "In Secret" an adequately engaging drama of so much grit, and only so much bite. 2.5/5 - Fair
Cameron Johnson
Super Reviewer
½
Sexual repression in the 1860s is not a subject matter often discussed, but in Charlie Stratton's adaptation of Émile Zola's scandalous novel "Thérèse Raquin" (1867) titled "In Secret", this tale is given a shot of rejuvenation thanks to its young and aspiring cast. Elizabeth Olsen is enough reason to view any film these days, with an impressive control over her deliveries and a look that allows her into almost any role. The fact that she has just surfaced as a viable actress (seeing as her sisters were childhood actresses) is astonishing to me and leads me to believe her best performances lie ahead. Playing the title character, Thérèse, whose father drops her off with her aunt Madame Raquin (Academy Award nominated Jessica Lange) at a very young age. As they grow older, the assumption that Thérèse will marry her first cousin, Camille ("Harry Potter" star Tom Felton) grows stronger, but his sickness and general lack of interest in the female sex leaves Thérèse wanting more, a hyper-sexual type that is found masturbating in a field to a shirtless man early on in the film. When they move to the city and meet Camille's childhood friend, Laurent ("Inside Llewyn Davis" lead Oscar Isaac), Thérèse's sexuality blossoms, pining for the suave artist whose words alone carry her to the brink of orgasm. As one would expect, an affair transpires, eventually leading to the question of what happens next. Does Thérèse remain in a loveless, sexless marriage with Camille? Or does she run away with Laurent? What transpires is along the lines of a Shakespearean tragedy, with everyone playing the roles perfectly. Olsen and Isaac have great chemistry, even after their characters shift into darker versions of themselves. Felton continues to play an excellent villainous character while Lange plays the overbearing mother with a fervor she was made for. Clad with spot-on period set design and costumes, the setting looks to step out of a Charles Dickens novel, playing rich and dark on-screen. Continuing the sexual presence in period films following recent releases like "Hysteria", "A Royal Affair", and "A Dangerous Method", there is something so satisfying about seeing these otherwise dignified people from the past experience the same emotional and stimulating responses that occur in this day and age, with little to no change apart from the fallout that happens afterward.
Christopher Haskell
Super Reviewer
In Secret Quotes
There are no approved quotes yet for this movie.