In the Army Now
(1994)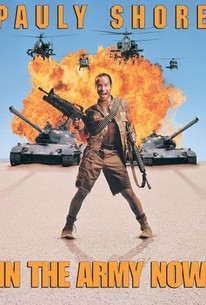 TOMATOMETER
AUDIENCE SCORE
Critic Consensus: This 1994 Pauly Shore vehicle stretches its star's thin shtick to the breaking point with a laugh-deficient screenplay that borrows shamelessly from Bill Murray's far superior Stripes.
Movie Info
In this comedy adventure, Bones wants to open his own stereo shop with his best friend Jack. To earn the cash, Bones talks Jack into joining the Army reserves. When a mix-up occurs, the two friends find themselves driving a water tanker behind Libyan enemy lines.
News & Interviews for In the Army Now
Critic Reviews for In the Army Now
Audience Reviews for In the Army Now
½
This was the type of film I thoroughly enjoyed when I was younger. Now looking back, I can't believe the crap I enjoyed when I was young. In the Army Now is a horrible film with a terrible cast. Pauly Shore made two fairly comical films, but unfortunately for him, with this one he started to repeat himself and be very annoying. His antics were decent for at least two films, but over doing the weasel was starting to be painful to watch. The comedy elements of this film fall flat and they never get off the ground. How can they with a one dimensional comedian like Pauly Shore? In the Army Now fails from start to finish. This is simply a poorly written comedy with nothing going for it. The jokes are stale, the acting sucks, and the direction is bad. The film fails to entertain and fails as a comedy. If you're looking for a good comedy, this isn't it. What you can expect from this film is an awful attempt at comedy and yet another folly from Pauly Shore. Encino Man and Son in Law were decent, but this film was the point in Shore's career where he started to be irrelevant with his crap style of humor. His one joke routine worked for two films after that, it didn't. In the Army Now is a poor comedy that at times makes you smile, but never makes you chuckle. Maybe the film would have been better if it had better actors, but since this is a Pauly Shore film, this film is a miss. In the Army Now is significant because, it shows signs of Pauly Shore's dwindling sense of comedic delivery. A forgettable film.
½
I didn't ever see "In The Army Now" until a few weeks ago. I didn't ever think it would be that good of a movie, but after watching it I found out I was wrong. Two guys who have nothing else to do decide to join the army and that's when the fun begins. They are both thought of as losers and it doesn't seem like they could ever make it in something like the army at first. However, they turn out to be two of the most successful people in the army. If you like good comedy movies, I recommend seeing "In The Army Now" because it's fun to see how Pauly Shore and his friend make it a success being in the army. NOTE: That was my Amazon review from the year 2000. Makes you wonder if it's really that fun to be in the army.
Jason Owens
Super Reviewer
½
Back when he was really popular Pauly Shore was putting out a lot of movies. This was not one of the good ones.
Jason Spencer
Super Reviewer