In the Bedroom
(2001)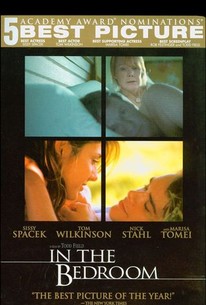 Movie Info
Character actor and noted photographer Todd Field made his directorial debut with this emotionally powerful drama, which earned enthusiastic reviews at the 2001 Sundance Film Festival. Frank Fowler (Nick Stahl) is a handsome and amiable young man who has recently graduated from high school and is spending the summer working as a lobster fisherman before heading off to college in the fall. Frank is also involved with Natalie (Marisa Tomei), an attractive woman ten years his senior who is separated from her husband Richard (William Mapother), though their divorce has not yet been finalized. Frank's parents, Matt (Tom Wilkinson) and Ruth (Sissy Spacek) wonder if it's wise for their son to be pursuing a romance that he won't be able to continue in a few months; Matt trusts Frank and leaves him to make his own decisions, while Ruth quietly but firmly registers her objections. One day, Richard snaps, and breaks into Natalie's home; when he discovers Frank is there, he viciously kills him. The wheels of justice turn in an unexpected direction, and Richard is released on bail, free to go his own way as he awaits his trial. Matt and Ruth are both deeply traumatized by the event; while Matt tries to deal with his hurt by retreating into his work and avoiding his feelings, Ruth instead becomes increasingly withdrawn, losing interest in her job as a music teacher and spending her nights chain smoking in front of the television. In the Bedroom was adapted from the short story Killings by Andre Dubus. ~ Mark Deming, Rovi
Critic Reviews for In the Bedroom
Audience Reviews for In the Bedroom
Analogous title for a flm that deals with this state in various ways. Sissy Spacek, Tom Wilkinson, and Marisa Tomei shine in this dismal tale of devastation in a Maine lobster town. First-time director Todd Field did a brilliant job portraying the loss, rage, and desire for revenge with the help of exceptional acting performances, and the observation of the taciturn anguish so readily available in our everyday lives.
½
An expertly crafted film concerning a family dealing with grief. Tom Wilkinson impresses yet again, in his most accomplished performance yet as a respected man of a small town in Maine who feels he must avenge the terrible act committed against his son. The performances are all top-notch, capped off with an arresting last thirty minutes of the movie that prove to be extremely well written and plotted. Although at times it appears to be a little too slow-moving, if you concentrate on the setting, characters, and how the story is told, you should be captivated.
Dan Schultz
Super Reviewer
This film is nigh perfect until 1/3 of the way through, when it starts trying too hard to portray the subtlety of a grieving family. The fights - while magnificently acted - are completely unmotivated. Ruth claims Matt never wanted to talk about the incident, but it's not as if she ever tried talking either. It's a cop-out to say that she is confused with grief and doesn't know what she's saying. Even so, the film would need more development to come to that realization. THEN the climax. Come on! Matt is not the killing kind, and the plan is full of holes! This film attempts a conscionable killing ala Woody Allen, but they neglect to properly build the motives, the atmosphere, and the aftermath.
Alice Shen
Super Reviewer
In the Bedroom Quotes
| | |
| --- | --- |
| Richard Strout: | Where are the boys? |
| Natalie Strout: | ...It's none of your business. |
| Richard Strout: | Oh, I see. They're my boys, but they're none of my business. |
| | |
| --- | --- |
| Ruth Fowler: | He needs in school, not in her. |
| Matt Fowler: | So to speak. |
| | |
| --- | --- |
| Willis Grinell: | Ever notice that even the worst bastards have friends? |
| | |
| --- | --- |
| Natalie Strout: | You know what defines a father? It's what he does, not what he promises. |