In the Blood
(2014)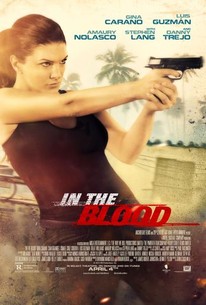 Movie Info
Gina Carano stars as Ava, a trained fighter with a dark past. When her new husband (Cam Gigandet) vanishes during their Caribbean honeymoon, Ava uncovers a violent underworld of conspiracy in the middle of an island paradise. Armed with a deadly set of skills, Ava sets out to discover the truth - and to take down the men she thinks are responsible for his abduction, one by one. (c) Anchor Bay
Critic Reviews for In the Blood
Audience Reviews for In the Blood
A decent action film. Gina Carano's pretty cool here, as always. There's some sick action scenes here, but the story kind of drags in between them, and the movie does take awhile to get off the ground. Still though, not a bad film.
Stephen Skudlarek
Super Reviewer
½
A fun, intense and terrifically old-school action-thriller. A Taken style film with lots of hand to hand combat, gun-play, suspense and a riveting star performance by Gina Carano. Carano is sexy, strong and filled with energy. Their is way to few action films that have strong female leads and Gina Carano just might be one of those real bright female action stars that can fit the bill. It has a great cast involved. Luis Guzman is terrific. Amaury Nolasco is excellent.
Entertaining Straight Up Action Flick with Influences from Taken. Good Action/Thriller Movie! In the Blood has nearly the same plot as the Liam Neeson thriller Taken but it is much easier to swallow. The difference between the two is that the earlier picture was a high-gloss Hollywood production while this one is shot more like a documentary. It is by no means perfect, but you at least feel like you've entered into a very dark and dangerous world. You can believe what you're seeing. Overall, this is a super-high action film with an amazing heroine one that doesn't stand around waiting to be saved by a man and I love that. Carano plays the real thing and action hero in every sense of the word. When her husband goes missing during their Caribbean vacation, a woman sets off on her own to take down the men she thinks are responsible.
In the Blood Quotes
There are no approved quotes yet for this movie.