In the Line of Fire
(1993)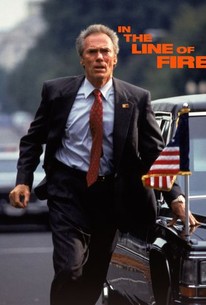 TOMATOMETER
AUDIENCE SCORE
Critic Consensus: A straightforward thriller of the highest order, In the Line of Fire benefits from Wolfgang Peterson's taut direction and charismatic performances from Clint Eastwood and John Malkovich.
In the Line of Fire Videos
In the Line of Fire Photos
Movie Info
Clint Eastwood delivers one of his finest performances, as a secret service agent haunted by his past in Wolfgang Petersen's taut thriller In the Line of Fire. Eastwood plays Frank Horrigan, a secret service agent who keeps thinking back to November 22, 1963, when, as an agent hand-picked by President Kennedy, he became one of the few agents to have lost a president to an assassin. Decades later, psychotic Mitch Leary (John Malkovich) is stalking another president (Jim Curley) running for re-election. He has spent long hours studying the psyche of Frank Horrigan, and he taunts Horrigan (feeling that there is a bond between them), telling him of his plans to kill the president. After his conversation with Leary, Horrigan makes sure he is assigned to presidential protection duty. Horrigan has no intention of failing his president this time around, and he is more than willing to take a bullet. But everything goes Leary's way -- he is smart and cagey and the president's aides refuse to alter the itinerary. As the election draws closer, Horrigan's chances to catch Leary look to be less and less a possibility, and he begins to doubt his own abilities -- both now and in the past, when Kennedy was murdered.
News & Interviews for In the Line of Fire
Critic Reviews for In the Line of Fire
Audience Reviews for In the Line of Fire
½
A sizzling, stunning and pulse-pounding edge of your seat thriller. An relentlessly exciting and thrilling ride. It's gripping, outstanding and unforgettable. Clint Eastwood gives a first-rate Oscar caliber performance, he has the charm, intensity and irresistible romantics that makes this one of the best performances of his career ever and just shows why he`s a movie star. John Malkovich is riveting, giving a chilling and charismatic performance that's just pure dynamite. Packs a piercing bullet of unrelenting suspense and explosive action. This is one Thriller you don't want to miss. It's cleverly constructed and well executed. A triumph by Director, Wolfgang Peterson. A classic cat and mouse mind-game. An exhilarating and adrenaline-pumping film.
The secret agent who was on duty in Dallas when Kennedy was shot wants a second chance as a maniac starts to threaten the president. John Malkovich delivers one of his greatest performances as ruthless psychopath (or is he?) who starts playing mind games with protagonist Eastwood, who is far from over his failure in the past. While the agent has to deal with a new team of coworkers, his past and his age, the stalker seeks the contact to him, raising questions like whether or not a president is worth taking a bullet for. Their phone conversations are great scenes of two worthy opponents, with the psycho having the advantage on his side for the longest times. Thankfully, the film never gets overly political or even patriotic, but sticks to its thriller theme and works great there. Of course, things lead to a very exciting showdown. A very satisfying, entertaining and engaging thriller.
½
Featuring an excellent script, great direction, and some wonderfully solid performances, this is a very exciting film, and one of the most taut, and suspense, and first-rate thrillers out there. Frank Horrigan is a veteran secret service agent who failed to save JFk from being assassinated. He's still haunted by his past three decades later, and it all comes rushing back to him when he starts receinving menacign phone calls from a sadistic man who stalks him and keeps making threats to not only take out the current president, but Frank as well. This new threat really starts to wear Frank down even more, but the situation also provides him with a long awaited chance at both redemption and closure. Oh sure, the film is slick, Hollywood-ized and not without some cliches, but despite all that, this is a tightly wound, occasionally very smart, and engaging thriller. What really makes a lot of it work is Jeff Maguire's great script, and the standout performances from a talented and notable cast. Eastwood brings genuine class, heart, and authenticity to the role of Frank, and John Malkovich, though he's now typecasted for this sort of thing, is truly mancing and scary as the cunning, devious, and psyche bruising antagonist. He's played some really great and chilling villains before, but this one easily deserves to be somewhere very near, if not right on top of that list. He brings jsut the right touch to keep the character from becoming a cartoon, or just mindless. Rene Russo is nice as a tough field chief working with Frank who, despite a rocky start, does begin to warm up to him and become one of the few people he can really trust, which is even more important when things really start to build up to the climax. Dylan McDermot is also fine, though a little rough around the edges in his turn as a rookie agent. It's fun seeing Gary Cole in a pre-Brady Bunch and Office Space role that's as far from comedic as you can get. I could really nit-pick if I wanted to, but it's really not all that necessary. This isn't the most ingenious film ever, but it's never dull, got a great set up, some really good characters, and the themes of guilt, redemption, and the commonalities between predator and prey are all examined in a well done and entertaining manner. I did like Ennio Morricone's score, but, honestly, I think that might be the only there here that could really be seen as rather weak and a little disappointing. All in all though, this really does have a great plot and is one of the best thrillers out there. Definitely give this one a watch and prepare yourself for Wolfgang Petersen and his great cast giving some of their best work. As a nice bonus, there's actually some good humorous moments as well that surprisingly fit in instead of sticking out awkwardly.
Chris Weber
Super Reviewer
In the Line of Fire Quotes