In the Name of the King: A Dungeon Siege Tale
(2006)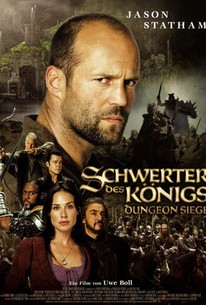 TOMATOMETER
AUDIENCE SCORE
Critic Consensus: Featuring mostly wooden performances, laughable dialogue, and shoddy production values, In the Name of the King fulfills all expectations of an Uwe Boll film.
In the Name of the King: A Dungeon Siege Tale Photos
Movie Info
Uwe Boll's fantasy adventure film In the Name of the King: A Dungeon Siege Tale stars Jason Statham as Farmer, a simple man from the Kingdom of Ehb whose goal as the story begins is to care for his family. However, when the power-hungry Gallian (Ray Liotta) invades the kingdom, Farmer must abandon his simple existence in order to rescue his wife (Claire Forlani) and save his king (Burt Reynolds). This film is a cinematic adaptation of the video game Dungeon Siege. ~ Perry Seibert, Rovi
News & Interviews for In the Name of the King: A Dungeon Siege Tale
Critic Reviews for In the Name of the King: A Dungeon Siege Tale
Audience Reviews for In the Name of the King: A Dungeon Siege Tale
[img]http://images.rottentomatoes.com/images/user/icons/icon14.gif[/img]
Directors Cat
Super Reviewer
This is a terrible film all the way, God knows how they got such a good cast. It rips off so many good, bad and old fantasy films and not in a good way either, just in a hammy cheap way. The story is the usual old rubbish, the effects are poor and the acting is real cheese. They also manage to stick some martial arts nonsense in there too, as hordes of faceless monster baddies get their arses kicked by the ugly looking Statham without realising once this guy might be a bit good. Everything is predictable and cliched to the max, it gets two stars for some nice cgi landscapes here and there. Could of been a cool homage to the old hack n slash Capcom arcade games 'Dungeons & Dragons'...if you get me, but they just go down the overly used martial route these days.
Phil Hubbs
Super Reviewer
Uwe Boll attempts to make his very own Lord of the Rings and the results are hilarious. I mean, I've seen some bad writing in my life, but this movie has got to take the prize. Combine that with cringe-worthy acting, videogame-ish CGI, crappy editing and questionable directing, and you have a disaster waiting to happen. The whole movie is constructed like a house built together with cheap glue and ducktape, where the only saving grace was its adequate portion of mindless action. Or, in my case, the cool sensation of having met two of the actors in the film in real life (John-Rhys Davies and Ron Perlman). Anyway, as a final word to Uwe, I'd just like to vent the following: Please, I beg you! Stop destroying all these great concepts and respectable game titles! Stop squandering away so many good actors and rid us of the tragedy and misery that is your film-making! Because whatever ego trip you're on, trust me, you're not making the world into a better place. Oh, and by the way, the next time you attempt to make a fantasy movie, try not to include ninjas and boomerangs.
In the Name of the King: A Dungeon Siege Tale Quotes
| | |
| --- | --- |
| Norick: | I was just talking. |
| Farmer: | Well, everyone's got a talent. "Just talking" seems to be yours. |
| Farmer: | Well, everyone's got a talent. 'Just talking' seems to be yours. |
| | |
| --- | --- |
| Merick: | Sometimes, the Gods know what's best for us. |
| Merick: | Sometimes, the Gods know what's best for us. |
| King Konreid: | ...What the hell does that mean!? |
| King Konreid: | What the hell does that mean!? |
| | |
| --- | --- |
| Farmer: | There's something i've always wanted to tell you...I love you. |
| Farmer: | There's something I've always wanted to tell you. I love you. |