Incendiary
(2009)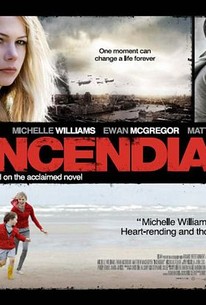 TOMATOMETER
AUDIENCE SCORE
Critic Consensus: A solid performance from Michelle Williams isn't enough to save this well meaning, but disappointing, cliché ridden drama.
Movie Info
A woman wrestles with grief, betrayal and redemption in this psychological drama from director Sharon Maguire. One afternoon, a young woman (Michelle Williams) sends her husband and young son off to see a football game, and while they're gone for the afternoon she enjoys a tryst with her lover (Ewan McGregor), an opportunistic reporter. While the woman is making love to another man, she hears a news report that a suicide bomber made their way into the stadium, and that hundreds of people are dead. The woman is horrified to learn that her husband and child were among the victims, and as she struggles to sort out the pieces of her life, she begins having second thoughts about her illicit relationship while struggling with her feelings about Terrence Butcher (Matthew Macfadyen), a police officer looking into the attack. As the woman tries to come to terms with her grief, she befriends a young boy (Usman Khokhar) whose father happened to be involved in the attacks. Adapted from the acclaimed novel by Chris Cleave, Incendiary received its world premiere at the 2008 Sundance Film Festival. ~ Mark Deming, Rovi
News & Interviews for Incendiary
Critic Reviews for Incendiary
Audience Reviews for Incendiary
A woman whose husband and son are killed in a terrorist attack while she engages in a liaison with her neighbor becomes stuck in the throes of grief and regret. I have to begin by recognizing the remarkable performance by Michelle Williams, which is the only reason to watch this film. Her moments of hysteria are just as believable as her moments of numbness, and her looks, while captivated by love for her son, are heart-warmingly lovely. That said, this is quite possibly one of the most emotionally manipulative films I've ever seen. The voice-over narration of her letters to Osama bin Laden are worthy of eye-rolls so exaggerated that they may deform one's face, and the maudlin music only adds to an effect that contrives emotion rather than produces it. What is more, the film attempts to combine drama and mystery with a little action thrown in for good measure, but the film never commits to any genre; as a result we get a hodge-podge of disparate elements, which never amounts to anything significant. The overall message of Incendiary is about forgiveness and a resistance to lumping all Arabs under the category "terrorist." Of course, I am sympathetic to these themes, but the jump that's required of the "Young Mother" to learn these lessons is never fully explored. Few people are more liberal than I, and even fewer are more inclined to advocate for Arab interests on the political stage, but even I felt anger, which is a natural response to terrorism that is conspicuously elided from this film. Overall, see this film for Michelle Williams's performance but only if you have nothing better on your queue.
Jim Hunter
Super Reviewer
Cast: Michelle Williams, Ewan McGregor, Matthew Macfadyen, Sidney Johnston, Nicholas Gleaves, Nicholas Courtney, Enzo Squillino Jr., Sasha Behar, Gavin Brocker, Chris Ellis, Ricci McLeod Director: Sharon Maguire Summary: A powerful drama staring Michelle Williams as an adulterous young housewife struggling to come to terms with the deaths of her husband and infant son after they're killed in a terrorist bombing at a London soccer game. Crippled by grief, the widow seeks comfort through affairs with two men (Ewan McGregor and Matthew Macfadyen), inadvertently putting herself in the midst of a dangerous love triangle. My Thoughts: "An extremely sad and heart breaking film. Michelle Williams in one of her finer performances. She really takes you through the emotions with her, and you can't help but empathize with her. Great acting by all, but Michelle carries this film. The only real down fall of this film is the character development. You never really got to know the characters. Could have made the supporting cast a bit more interesting. But besides that, it was a good emotional drama."
♥˩ƳИИ ƜѲѲƉƧ♥
Super Reviewer
A touching drama as a young mother tries to cope with the loss of her husband and son in a terrorist attack. Ewan McGregor and Michelle Williams team up again shortly after Deception made around the same time. Despite that being more of an erotic thriller they have a steamier scene in this. Williams gives probably her best performance to date. Although the film starts well, it seems to lose some direction in the second half. The ending was ok but from the first 30 minutes this could have been a much stronger film. As it is most people have probably not even heard of it? If you don't mind a drama you should enjoy this.
Incendiary Quotes
There are no approved quotes yet for this movie.