Inception
(2010)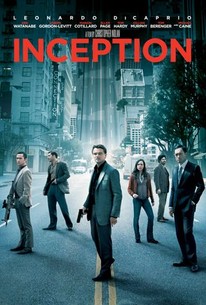 TOMATOMETER
AUDIENCE SCORE
Critic Consensus: Smart, innovative, and thrilling, Inception is that rare summer blockbuster that succeeds viscerally as well as intellectually.
Movie Info
Visionary filmmaker Christopher Nolan (Memento, The Dark Knight) writes and directs this psychological sci-fi action film about a thief who possesses the power to enter into the dreams of others. Dom Cobb (Leonardo DiCaprio) doesn't steal things, he steals ideas. By projecting himself deep into the subconscious of his targets, he can glean information that even the best computer hackers can't get to. In the world of corporate espionage, Cobb is the ultimate weapon. But even weapons have their weakness, and when Cobb loses everything, he's forced to embark on one final mission in a desperate quest for redemption. This time, Cobb won't be harvesting an idea, but sowing one. Should he and his team of specialists succeed, they will have discovered a new frontier in the art of psychic espionage. They've planned everything to perfection, and they have all the tools to get the job done. Their mission is complicated, however, by the sudden appearance of a malevolent foe that seems to know exactly what they're up to, and precisely how to stop them. ~ Jason Buchanan, Rovi
News & Interviews for Inception
Critic Reviews for Inception
Audience Reviews for Inception
so great is the hype and praise from my fellow flixster cinephile elite that if this is anything less than a watershed film, I will be disappointed
_kelly .King
Super Reviewer
½
A mind-blowing, fantastic film concerning dreams and their dimensions, and how one man (DiCaprio) assembles a team together in order to plant an idea in an important businessman's mind (Cillian Murphy), so that he can be granted his wish to return to his home. This is a mostly astonishing picture, one that requires its audience to remain on the edge of their seats throughout its entirety. With so many thoughtless, hollow summer blockbusters coming out nowadays, it's a treat to finally see something of this complexity come out at this time of the year. Leo, as always, turns in a magnificent performance. The only fault this film has is its lack of character development amongst the supporting parts, which I originally dismissed but now that I think of it - what do we know about Joseph Gordon-Levitt in the film despite him walking all over walls and Tom Hardy's smart-aleckness? Although it's easy to get lost in this adventure, director Nolan doesn't expect you to understand every key aspect of this film. Instead, just accept the fact that this is a complicated movie, but one whose story is handled with meticulous care. Without question a very good film, and one that is deserving of the massive amount of attention and cash-flow it has received.
Dan Schultz
Super Reviewer
Paid more for IMAX. Not terribly impressed. I've been waiting for another "Memento"-esque movie from Nolan, but the more popular he gets, the more mainstream his movies become. Huge blockbuster effects over subtle representations of deceit, action, and love. This movie about dreams doesn't really gel with me personally because I don't have dreams in which I can "do anything." I can't make decisions in my dreams, so I was hoping this movie would address how different people dream, dream theory, common dreams, and perhaps dream interpretation, not just cool zero gravity fight scenes and "repression." There are also several plot holes/inconsistencies. I don't buy that Ariadne would be the only one to try to crack Cobb's subconsciousness. His team has worked with him for much longer, and they still don't realize what danger they're in? How could the team not have realized Arthur's dream would coincide with the van crashing off the bridge and as such, prepare for zero gravity? What is this call that Saito makes to absolve Cobb of his past? How is Cobb even implicated in Mal's death when her point of impact from the hotel room is below a different hotel room than the one that holds signs of struggle? Why is Mal's name so obviously evil? And IF the top DOESN'T topple over at the end, then whose dream and what level are we in? The emotional and psychological elements of the movie aren't as effortlessly beautiful as the easily malleable dream worlds, which as I mentioned before, isn't EVERYONE'S dream world. Joseph Gordon-Levitt is just about the hottest guy ever. Cillian Murphy is a close second.
Alice Shen
Super Reviewer
Inception Quotes
| | |
| --- | --- |
| Saito: | You musn't be afraid to dream a little bigger darling. |
| Eames: | You musn't be afraid to dream a little bigger darling. |
| | |
| --- | --- |
| Arthur: | We need a big kick |
| Mal: | What's a kick? |
| Eames: | This, darling, is a kick [kicks Arthur] |
| Eames: | This, darling, is a kick. |