Inchon
(1981)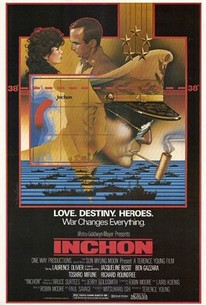 Movie Info
This big-budget epic re-creation of the massive Korean war battle of Inchon just proved too ponderous to save itself from certain death. Terence Dixon was hired to direct the film on location in Korea. The production was plagued with problems ranging from an uncooperative government to bad weather.
Critic Reviews for Inchon
Audience Reviews for Inchon
Terrence Young's Inchon has had the reputation of being one of the worst films ever made in the history of the medium. Is this movie as bad as its reputation suggests, it's not, but it is a mediocre war film with below average performances. The film is quite inaccurate and is dull and boring. This could have been a better film, one that should have been exciting and action packed. Inchon was a great success during the Korean War. I think this as a poor effort in telling of this legendary feat of military strategy. The acting is bland, and no one really stands out. This had the potential of being a grand war film by the likes of Patton, Saving Private Ryan and other WWII epics. Unfortunately it flopped big time, and you can clearly see why. The script is lacking of effective ideas to really make it a stand out film, and the cast seem bored with the material. The Inchon landing was impressive and the story behind Douglas MacArthur's dedication of his plan is truly legendary. In the movie, the invasion is quite exciting, and it stands out as the best thing about this film. The film overall has little to none interesting content, and it's a great shame because this should have been a classic. However it is remembered for only one thing, that it is among the biggest of cinema's flops. Inchon is a misfire, but like I said, the invasion sequence is entertaining, and the part of the movie where it picks up. However it's too little too late, and it doesn't make this one worth checking out. Go into this one expecting nothing remarkable. In the long run, this picture is forgettable.
Inchon Quotes
There are no approved quotes yet for this movie.