The Incredible Two-Headed Transplant
(1971)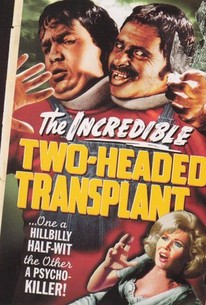 AUDIENCE SCORE
Critic Consensus: No consensus yet.
Movie Info
This ridiculous '70s exploitation quickie is notable mainly for its casting: Bruce Dern toplines as the crazed doctor Girard, with Munsters star Pat Priest as his beleaguered wife and top-40 DJ Casey Kasem (who also lends his talents to various voice-overs throughout the film) as a medical colleague. Girard's semi-successful attempts at surgically attaching additional heads to various lab animals leaves him a bit unfulfilled, and it's no time at all before he goes about performing the operation on a human being. He chooses as his first subject his caretaker's simple-minded but kindly son Danny (John Bloom), onto whose massive shoulders he adds the head of a demented killer (Albert Cole) who was recently gunned down while trying to invade Girard's home. The result is less frightening than pitiful as the morose Danny's personality is subjugated to the evil will of his unwelcome new head, whose psychotic rage continues unabated in his hulking new physique. Shoddy effects, a cheesy (and horribly miscued) psychedelic score and laughably bad dialogue have ingratiated this film to many bad-movie buffs' top-ten lists.
Critic Reviews for The Incredible Two-Headed Transplant
There are no critic reviews yet for The Incredible Two-Headed Transplant. Keep checking Rotten Tomatoes for updates!
Audience Reviews for The Incredible Two-Headed Transplant
½
Got this on in a MGM Midnight Movies Double Feature, and from the start one can imagine this being played at the drive in on Friday Nights, under the stars and with the mosquito?s. All in all its not a bad film we have Dr. Roger Girard who is played by Albert Cole, he is the mad scientist who after transplanting the head of a gorilla on another Gorilla's body, wants to try on a human, trouble is one head is good one is bad. So makes our story. Better then I expected by long shot. Its worth getting in the MGM Double Feature Format, 3 1/2 stars
Bruce Bruce
Super Reviewer
This is MUCH, MUCH better than the extremely goofy title would lead you to be believe. Yeah, sure it's a B movie and it's got the cheese oozing from it in certain spots, but it's also very cleverly photographed and edited. Come on, how can you go wrong with both Casey Kasem and Bruce Dern heading up the lead cast...not to mention Ray Milland in a small role? That's worth the purchase price alone. This is a fantastic little gem of a movie - warts and all.
Tim Salmons
Super Reviewer
The Incredible Two-Headed Transplant Quotes
There are no approved quotes yet for this movie.