Indiana Jones and the Temple of Doom
(1984)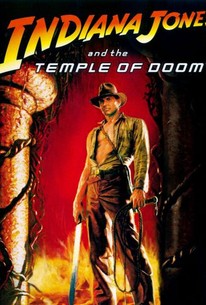 TOMATOMETER
AUDIENCE SCORE
Critic Consensus: It may be too "dark" for some, but Indiana Jones and the Temple of Doom remains an ingenious adventure spectacle that showcases one of Hollywood's finest filmmaking teams in vintage form.
Indiana Jones and the Temple of Doom Photos
Movie Info
The second of the George Lucas/Steven Spielberg Indiana Jones epics is set a year or so before the events in Raiders of the Lost Ark (1984). After a brief brouhaha involving a precious vial and a wild ride down a raging Himalyan river, Indy (Harrison Ford) gets down to the problem at hand: retrieving a precious gem and several kidnapped young boys on behalf of a remote East Indian village. His companions this time around include a dimbulbed, easily frightened nightclub chanteuse (Kate Capshaw), and a feisty 12-year-old kid named Short Round (Quan Ke Huy). Throughout, the plot takes second place to the thrills, which include a harrowing rollercoaster ride in an abandoned mineshaft and Indy's rescue of the heroine from a ritual sacrifice. There are also a couple of cute references to Raiders of the Lost Ark, notably a funny variation of Indy's shooting of the Sherpa warrior. ~ Hal Erickson, Rovi
Critic Reviews for Indiana Jones and the Temple of Doom
Audience Reviews for Indiana Jones and the Temple of Doom
Following the massive success of "Raiders of the Lost Ark", it was inevitable that a sequel would follow. No sane minded, or financially aware, production company would ever dream of missing the opportunity to boost a few more zero's on their bank accounts. And so... the sequel made it to the screen three years later. Now, some have given this second adventure a bit of hard time but I happen to think it's a very underrated and action packed addition to the adventures of the whip- cracking, fedora-wearing Dr. Jones that we have come to know and love. This time, Indiana Jones (Harrison Ford) is in search of the Sankara Stones - artefacts that an ancient village believe has protected them for generations and with the recent disappearance of their children, only the stones will bring them back, as well as, the protection of their people. As is customary, Indy agrees to the exploration, but he does so with wanted (and unwanted) people in tow. Although a follow-up, Indy's second adventure actually precedes Raiders by one year (essentially making it the beginning of the franchise) and this time were we find ourselves in 1935. The Nazi's haven't occupied Europe, yet Indy is still going about his endeavours with just as much bravery and commitment as we'd expect. His (and our) adventure begins in China before moving onto India as Spielberg and Lucas leave behind the Nazi adversaries and opt for a more world exploration in the travels of our favourite archeologist. Some might argue that the Nazi's were part of the draw in Raiders - and I'd agree with them. Who doesn't like the Nazi's being challenged? However, what can't be argued, is that Spielberg still hasn't lost his touch in concocting an exciting matinee yarn. Even though the Nazi's are omitted (and missed) as villains, the second instalment adds to the overall sense of world wide adventures that Indy has experienced. That being said, many viewers were not happy with this film. It's a little more bubble-gum entertainment than the solidity of it's predecessor but when the character and his escapades are so much fun, it's still very difficult not to be drawn in. Let's face it, Raiders was an achievement that was never going to be surpassed but I admire Spielberg and Lucas' determination in trying. For example, the escape from a nosediving airplane by rubber dingy is genius action material, as is, the roller coaster chase through the mines and the (hugely iconic) ultimate rope bridge showdown make up some of the best action set-pieces in any of the films. In fact, the opening rolling gong at the Shanghai nightclub and mine shaft chase were originally planned for parts of Raiders but they couldn't fit it in. You could also say that the sense of humour was diminished in favour of a darker tone (leaving this to be one of the first films to ever be prescribed a newly appointed PG-13 rating). Once again, Ford embodies the role with such commitment and believability and despite the dark tone, Spielberg still retains a sense of humour with the incorporation of damsel in distress Willie Scott (a gleefully entertaining Kate Capshaw) and child sidekick "Short round" (a perfectly cast Ke-Huy Quan) and his action skills are, simply, at the peak of his powers. Despite it possessing some of the most iconic scenes and confrontations of Indy's adventures, this had been pilloried for being a lacklustre follow-up. It does have faults, for sure, but this is still one of most underrated of action adventures that Hollywood (or Spielberg) has ever produced. Mark Walker
Mark Walker
Super Reviewer
½
Indiana Jones and the Temple of Doom is nowhere near as good as its predecessor, Raiders of the Lost Ark, but it hasn't lost the sense of adventure that made that earlier film so iconic. Certainly the boundaries of realism and plausibility are stretched rather thin, but this sequel (actually a prequel since the events take place before the events in Raiders) is solid entertainment. This time around, Indy finds himself narrowly escaping a botched attempt in China to retrieve a precious diamond. He ends up in India, where he is employed by a small town to find a stolen gem as well as a multitude of kidnapped boys. This endeavour is quite unsettling as the truth that Indy uncovers is not only mean-spirited but downright terrifying. Accompanied with a cast of popular Indian actors that add to this film's universal appeal, Temple of Doom is a fun adventure that will disturb and enthrall in equal doses.
Edward Boxler
Super Reviewer
½
While not having as great a story as the original film, "Indiana Jones and the Temple of Doom" serves as a very entertaining picture towards this adventure franchise, which has lasted decades and deeply impacted cinema. I must say that the characters in this film are much more fun to watch, due to their silliness, and the direction is just as good as before. The story unravels, less interesting than the first, but the action is far more improved. This sequel is not one to miss if you are a fan of the first. I enjoyed the hell out of it, although it's not as original!
Indiana Jones and the Temple of Doom Quotes
| | |
| --- | --- |
| Short Round: | What is Sankara? |
| Indiana Jones: | Fortune and glory, kid. Fortune and glory. |
| | |
| --- | --- |
| Mola Ram: | The British in India will be slaughtered. Then we will overrun the Moslems and force their "Allah" to bow to Kali. And then the Hebrew God will fall and finally the Christian God will be cast down and forgotten. |
| | |
| --- | --- |
| Willie Scott: | Indiana Jones, this is one night you'll never forget. This is the night I slipped right through your fingers. Sleep tight and pleasant dreams. I could've been your greatest adventure. |
| | |
| --- | --- |
| Short Round: | I keep telling you, you listen to me more, you live longer! |