Indictment: The McMartin Trial
(1995)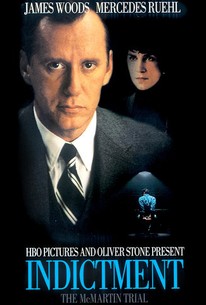 AUDIENCE SCORE
Critic Consensus: No consensus yet.
Movie Info
Originally broadcast on HBO, Indictment: The McMartin Trial is a docudrama concerning the infamous McMartin child abuse case. In 1984, seven employees of Los Angeles' prestigious McMartin Preschool, including four members of the McMartin family, were arrested and charged with child abuse and sexual molestation. The film centers on the story of lawyer Danny Davis, an opportunistic attorney who agrees to defend the McMartins. Initially, Davis takes the case solely for the publicity, but as he investigates further, he becomes convinced of his clients' innocence. Meanwhile, however, the family is pronounced guilty by the media, which airs heated allegations of "Satanic rituals" and a "nationwide conspiracy of sexual predators," in an increasing frenzy that the film compares to a modern-day witch trial. To convince the jury of the falsehood of these charges, however, he must overcome opposition from zealous prosecutor Lael Rubin and discredit Kee McFarlane, the child therapist that Davis believes has unfairly manipulated the McMartin Preschool children into giving damaging testimony. At the time of its airing, the film met with controversy; while some found its case convincing, others alleged that the filmmakers were unfairly biased in favor of the McMartin family.
Critic Reviews for Indictment: The McMartin Trial
There are no critic reviews yet for Indictment: The McMartin Trial. Keep checking Rotten Tomatoes for updates!
Audience Reviews for Indictment: The McMartin Trial
Very well done, and sickening........Amazing that I remember this news media frenzy story back when they were arrested. It was everywhere. What wasn't everywhere was how it all turned out. Where was the news media frenzy then? Not interesting enough by then? On to the next sensational story? Injustice like this just seems so surreal to me, but it seems to happen over and over. "Justice for all"? "Innocent until proven guilty"? Empty phrases, apparently...
Cynthia S.
Super Reviewer
Indictment: The McMartin Trial Quotes
There are no approved quotes yet for this movie.