Indie Game: The Movie
(2012)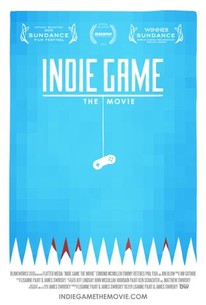 Indie Game: The Movie Photos
Movie Info
Indie Game: The Movie, directed by James Swirsky and Lisanne Pajot, looks at the underdogs of the video game industry, indie game developers, who sacrifice money, health and sanity to realize their lifelong dreams of sharing their creative visions with the world. This Sundance award-winning film captures the tension and drama by focusing on these artists' vulnerability and obsessive quest to express themselves through a 21st-century art form. -- (C) Official Site
News & Interviews for Indie Game: The Movie
Critic Reviews for Indie Game: The Movie
Audience Reviews for Indie Game: The Movie
½
Inspiring, terrifying, and almost deadly to view (to a fault), "Indie Game: The Movie" is a captivating documentary about the lives of three separate independent video game design companies who are all in the process of getting their game into the market. If you ever play a platform game online and say that it sucks, I highly recommend that you watch this film before ever saying such things again. This film will not change the fact that some games out there are dreadfully bad, but it will definitely make you reconsider whether or not you want to just rip it apart. This film has given me more insight to the video game industry than I had ever known throughout my lifetime. Beautifully shot and incredibly displaying these stressful stories, this is one of my favourite documentaries to date. I loved every aspect of it. My only issue with the film is that it may be a little repetitive with it's location shots, and it's editing is great, but it feels quick at times. Every emotional moment that needed to be captured, was, and I really appreciated the time they took to show us that. I love this movie!
An insightful and obliterating documentary on a subject that many express interest in but know little about the processes of. Game design is such a slow, intricate, and time consuming process, and needs an effort and financial push that seems obscene. The film itself follows three game designers, one of which has already released his award winning and massively popular game "Braid." His commentary flits through the story as someone who has gone through the world of indie games, the publication, and the backlash when the public he thought he would have an open dialogue with shut him down. His story is prevalent for the first third of the film, but he quickly disappears in the fray of the other two designers, blooming in the community as they newly release their games. One designer is French Canadian Phil Fish, who gained notoriety for having a slow game production and not coming out with his highly anticipated "Fez." Fish toils alone in an office in Quebec as he tries to finish the game design for something he both reviles and loves. He swears like a sailor, has panic attacks at every possible junction of the development, and tries to get himself out there once more. Much better off are two designers who are about to launch their game "Super Meat Boy." They seem to be the main emphasis, because each of them is quite interesting and have created success from their indie beginnings. Tommy Refenes is suicidal, depressed, and anxious about the release. He cares about his parents and seriously worries us, the audience, as we watch his life slip into isolation. His partner Edmund McMillen is charismatic, confident, and obviously creative. The contrast between them shows a disconnect from reality most designers go through. The film is beautifully shot, the interviews are always interesting, and the way each designer describes their process and the connection to their audience is eye opening. It drags in the middle and doesn't follow as many game designers as it should, but it's entertaining and insightful about gaming and designing as well as entertaining because the subjects are so flawed and altogether manic and suicidal most of the time. Truly original and groundbreaking in the field of documentaries.
Spencer S.
Super Reviewer
½
"If you don't see a vulnerability in somebody, you're probably not relating with them on a very personal level." A documentary that follows the journeys of indie game developers as they create games and release those works, and themselves, to the world.
REVIEW
This movie is a fascinating look into the lives of people who are putting everything on the line for the purpose of developing a game, and it gives due respect to a craft that really gets none from the average person. "Indie Game" displays the passion that these developers have - on more than one occasion, more than one of them contemplates suicide, with Phil Fish coming off as particularly passionate and psychotic. One problem that I have, though, is that the movie follows three games to begin with: "Super Meat Boy" (Edmund McMillen and Tommy Refenes), "Fez" (Phil Fish ), and "Braid" (Jonathan Blow), but since "Braid" had already been released, it is basically dropped from the second half of the movie as it focuses more on the deadline pressures of the other two games. Having recently read a fascinating interview with Jonathan Blow, the themes and tropes in this games are incredibly interesting, and the movie makes no effort to discuss them in anyway (though, funnily, it does display his frustration at the fact that nobody understood "Braid" upon release). Mr. Blow also has an interesting take on the video game industry, and I would have liked to see his, as well as the other developers' opinions on it, further than "Call of Duty sucks". Still a good movie that video-game lovers will eat up and that non-video game fans should watch to get a little insight into how games are made, the pressures that are felt, etc.
Lorenzo von Matterhorn
Super Reviewer
Indie Game: The Movie Quotes
There are no approved quotes yet for this movie.