Indigenous
(2014)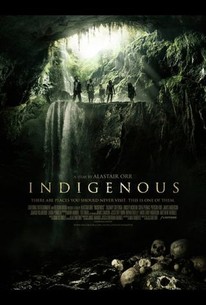 AUDIENCE SCORE
Critic Consensus: No consensus yet.
Movie Info
Friends vacationing in Panama discover a den of deadly creatures in the jungle after their guide disappears.
Critic Reviews for Indigenous
All Critics (2) | Fresh (0) | Rotten (2)
You guys have no idea how excited I was to see a chupacabra movie, and all they gave me was one of the mole-men from The Descent with an extra long tongue. What a rip-off.
Audience Reviews for Indigenous
You know, I'm sick and tired of these films where, mostly, white Americans go to a foreign country and they either get kidnapped or die horrible deaths due to some myth that, in fact, turns into reality in these films. It's such an easy and lazy stereotype to play into. The whole 'let's go to a foreign country where a bunch of really shit things will probably happen to our protagonists', just try a little harder at creating a fresher concept than just relying on the old cliches. Though, admittedly speaking, this isn't as bad as No Escape was in terms of making a foreign country as hostile to white folk as humanly possible. No Escape is what a movie made by Fox News would look like. Every country that's not the United States (or Europe) is full of colored terrorists who hate (white) Americans. This movie still has the arrogant Americans (and one Brit) who ignore the pleas from the locals not to go through the Darien Gap, which is believed to house some strange creatures in its jungles. These characters, wanting adventure, ignore these pleas anyway and decide to go through the gap anyway. Things start off normal, there are no issues and everyone is having a good time. But, as they get deeper into the jungle, they start to discover more of its darker secrets. Like I said earlier, this movie isn't that bad in its portrayal of Panama (which leads me to believe that it was a co-production with a Panamanian film company). It's just, basically, the fact that there's a monster lurking in the jungles of this very dangerous stretch of land. There's no evil Panamanians kidnapping the Americans for ransom money, or random locals stealing from the characters. So, at the very least, it didn't give in to some of its, potentially terrible, stereotypes associated with traveling to Central American countries. Let's just get this out of the way, this film is literally filled to the brim with jump scares. Some of them are actually pretty good, some are just lazy (which is to be expected). But the ratio of jump scares in this movie is the highest that I've ever seen. I'm not really even saying that as a positive or a negative, I'm just stating it as a matter of fact. I wish the film would have put more effort into presenting legitimate scares, but it was not to be. I can see a lot of people really being annoyed with the jump scares, so yea. Let's also get another thing straight, there is literally nothing about this movie that you haven't seen elsewhere. In fact, a good chunk of the movie reminds me of The Descent. The design of the monster is really fucking similar and some of the cave settings are ripped straight from the aforementioned film. If you know me, or if you've read my review, then you know I'm a big fan of The Descent. Like, seriously, I fucking love that movie to death. One of my favorite horror flicks of the 2000s. A lot of people I know hated it, but they're jerks and I want to punch their stupid faces. Seriously though, I'd have thought that comparisons to such a great movie would never end up being favorable to the flick that borrowed from it. And, really, it's not still not a very favorable comparison for this movie anyway. But I do want to say that it's not nearly as bad as I would have expected. The horror elements, while certainly very derivative and unoriginal, are serviceable. There's nothing inherently wrong with the execution of the horror, it's just that there's nothing exciting about them. You can use some of the same ideas and concepts, but if you're just repeating what came before then it makes it impossible for your film to stand out or make any sort of impact on the people that do decide to give it a shot. The problem isn't really even repeating, as I've seen plenty of slashers that I've enjoyed, but the fact that they lifelessly repeat what came before. It's possible to take old ideas and concepts and make them your own with your unique little tweaks, whatever those tweaks may be. Tarantino has pretty much made a career of taking established film concepts and infusing them with own flavor and unique style of storytelling. But I guess I'm just expecting too much from a low-budget horror movie. The bigger problem, to me, because, as I said, the horror is decent enough, is the fact that the acting doesn't do much to me. It's just like a bad imitation of the type of acting that this type of flick usually has. And if you actually look at the acting, it might not really seem that bad, but I don't know, I just wasn't into it in the slightest. Characterization left a lot to be desired. There's nothing to the characters past the 'this is our last time to hang out before we have to be responsible adults'. That's it, there's no more to the characters. Which is why it feels that these people are just there to be killed, there's nothing that you like about any of them. There's also nothing you dislike, well some of the dudebro moments between the men were annoying, but that's just because the film does such a shit job at giving these people legitimate personalities. It is what it is, sadly. I don't really have anything else to say. I guess it's nice seeing a film in which Americans visit another country and they're not forced to fight back against a corrupt government bent on killing them to keep their knowledge of what's in the jungle from reaching the masses. That was nice. There's nothing special about this horror movie, but it's ok at best. If I could stand to watch it for 85 minutes without losing my mind, so can most horror geeks. That's not exactly a glowing recommendation, but that's my final word on the movie. So there you have it. Watch if you must.
Jesse Ortega
Super Reviewer
Indigenous Quotes
There are no approved quotes yet for this movie.