Infernal Affairs II
(2003)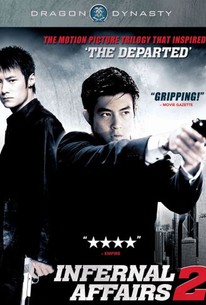 Infernal Affairs II Photos
Movie Info
The prequel to Andrew Lau and Alan Mak's smash hit Infernal Affairs opens in 1991, with Inspector Wong (Anthony Wong) explaining the frustrations of police work to gangster Sam (Eric Tsang). He also expresses his desire to see the seemingly reasonable Sam take over he reins of the local triad from the current boss. When that boss is murdered, with no apparent heir, it seems that Hong Kong is going to explode in an all-out gang war. But the boss' bespectacled, soft-spoken, and well-mannered son, Hau (Francis Ng), unexpectedly takes charge, calmly and cleverly defusing the situation. Meanwhile, Yan (Shawn Yu, reprising his role as the younger version of Tony Leung's character in the first Infernal Affairs) is thrown out of the police academy for breaking the rules, and it's discovered that he's Hau's half-brother. Wong recruits him to work undercover in Hau's organization. Ming (Edison Chen playing the younger Andy Lau) is a corrupt cop secretly working for Sam. His progress up the ranks of the police force is swift, but his relationship with Sam is threatened when he finds himself falling in love with Sam's girlfriend, Mary (Carina Lau). For his part, as the handover of Hong Kong to China approaches, Hau plots to become involved in "legitimate" politics, and to avenge himself against those he believes responsible for his father's death. Chapman To reprises his role as the goofy Keung. Infernal Affairs II was selected by the Film Society of Lincoln Center for inclusion in the 2004 New York Film Festival.
Critic Reviews for Infernal Affairs II
Audience Reviews for Infernal Affairs II
½
Set during the years leading up to the British hand over of Hong Kong to China, a police inspector attempts to overthrow a Triad gang and leave it in the hands of less violent and ruthless successor. The sequel to Infernal Affairs is actually more of a prequel, fleshing out the characters and events that led up to the time of the original. It's a beautifully made and intelligent gangster movie that reveals the various shades of grey within the characters; none can really be seen as totally "good" or "bad", particularly considering Inspector Wong's manipulation of events that lead to unexpected consequences. The only real problem is the fact that it's more of a companion piece to the original than a self-contained story and as such I think anyone who watched this without having seen the original will struggle to see the significance of the events as they unfold here. But to fans of the original film it's an excellent prequel that skillfully fleshes out the story and characters with a much broader palette, making the first film an all the more satisfying experience.
½
Prequel for Infernal Affairs. Not quite as good. As a matter of fact, I found it much harder to follow. Well done, but the style, and intrigue, that attracted me to the first one was missing in this one. Too bad...
Cynthia S.
Super Reviewer
Despite not working out that this was a prequel and not a sequel until half way through, the film impacted hard with natural, gritty performances, a gripping storyline and some wonderful music to accompany those powerful scenes, impressive second installment.
Lady D'arbanville
Super Reviewer
Infernal Affairs II Quotes
There are no approved quotes yet for this movie.