Infernal Affairs III (Mou gaan dou III: Jung gik mou gaan)
(2003)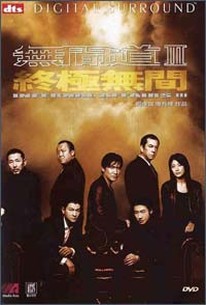 AUDIENCE SCORE
Critic Consensus: No consensus yet.
Infernal Affairs III (Mou gaan dou III: Jung gik mou gaan) Photos
Movie Info
Infernal Affairs III picks up where the first film left off. Ming (Andy Lau) is cleared of any charges involving Yan's (Tony Leung) death, and is eventually assigned to the Internal Affairs division. He discovers that another cop, Yeung (Leon Lai of Fallen Angels), quickly rising through the ranks of the police department, has a mysterious link to Shen (Chen Daoming of Hero), who was apparently Sam's (Eric Tsang) connection to the mainland. Ming strongly suspects that Yeung is another one of Sam's moles, and is determined to expose him, while keeping his own connection to Sam a secret. It's a tricky proposition because Yeung also seems to suspect Ming, and appears to have the same goal in mind. With the help of Dr. Lee (Kelly Chen), Yan's psychiatrist, Ming looks deeper into Yan's final days, and flashbacks explore the undercover cop's dealings with both Yeung and Shen. Eventually, Ming finds an incriminating tape of Sam conversing with his mole, and has a climactic confrontation with Yeung. Anthony Wong and Chapman To also reprise their roles from the first two films in flashbacks. Infernal Affairs III was shown, along with the rest of the trilogy, at the 2004 New York Film Festival, presented by the Film Society of Lincoln Center. ~ Josh Ralske, Rovi
Critic Reviews for Infernal Affairs III (Mou gaan dou III: Jung gik mou gaan)
All Critics (3) | Top Critics (2) | Fresh (1) | Rotten (2) | DVD (1)
It seemingly exists to buff its predecessors' rough spots but only tarnishes their memories.

Just as many Hong Kong movies fall apart in the third act, so the Infernal Affairs trilogy goes seriously awry in its concluding leg.

Infernal Affairs III reveals the desperate lengths men will go to protect their covers and to survive the internal agonies of fear, stress and lack of trust.
Audience Reviews for Infernal Affairs III (Mou gaan dou III: Jung gik mou gaan)
The final instalment of the Infernal Affairs Trilogy is set both directly after the events of the first film as well as in the months leading up to them, introducing two new characters in the mix as well as fleshing out the part played by the psycho-analyst played by Kelly Chen. The timeline jumps back and forth repeatedly which can make the narrative seem a little confused as Yan's character makes an appearance even after his death as Lau's mental state deteriorates. Unfortunately it is this plot development that leads the trilogy into unconvincing melodrama as his schizophrenia seems very contrived and gimmicky. The scenes set earlier in the erratic timeline are better but they don't really add anything to the original story making part III seem like it's making excuses for its own existence. It is still well directed and performed and is certainly not a complete waste of time, but it feels more like a tacked on addendum rather than a natural continuation of the Infernal Affairs story.
½
Where Scorsese's recent version of Infernal Affairs all the loose ends pretty much got tied up during the film whereas with the original we were left with an open (but much more emotionally impacting) conclusion. The first sequel was a prequel so part III was left to pick up afterwards while also going back over the original film and filling in more detail. In doing this it marks itself out as one that is aimed at the fans rather than being just out for money. The downside of this is of course that if you are not a fan you might find this hard to follow along with (and if you have not seen the first film then just forget it totally). Personally I thought the first film was an enjoyable cop thriller but I didn't think it was brilliant or developed characters that well but the tension was great. With the third film the focus was very much on the characters rather than the tension - with the fate of Ming being the modern thread that holds the film together. If you are into the characters and the parallels with the original film then it is worth seeing because it does do it pretty well. It does ask you to pay attention but it rewards you if you do and have been. There is action but mostly it is the Ming's ongoing struggle with who he is that the film pays most attention to. I quite liked this but must confess that this film still didn't do a great job of bringing out the characters that well and it is more the events and revelations that kept me interested rather than an emotional buy-in with the characters. Lau is perhaps partly to blame for this because I thought he was buttoned a bit too tight - it was understandable in some regards but the third film should have been the point where he shows more of a breakdown (which he does, but again it is events rather than emotion). Leung is good again but his scenes don't seem as relevant or as interesting within this film - again it is probably to do with the lack of emotional buy-in I felt with his character; his performance is natural and engaging though. Outside of these two the rest of the cast are pretty good. Again I didn't think much of the use of Chen but Wong and Tsang are both solid in their small returns. Overall then an effective and enjoyable film if you love the series and the characters; an interesting one if you have seen the first two films and a pointless one if you are looking to join in at the last minute. Tying up the loose ends of the series, the film isn't tense enough or emotionally impacting enough to be worth a look unless you are really already into the characters but it is an interesting way to bring things to an end - with restraint and tragedy rather than excess.
Cassandra Maples
Super Reviewer
An adreniline-fuelled thriller. A spectacular and outstanding conclusion to this brilliant and riveting triliogy. Simply magnificent and dazzeling. Spellbinding, shocking breathtaking and sensational. Tremendously entertaining with plenty of action and suspense to go around. Superb and remarkable. These films are some of the finest that Chinease cinima can offer. Absolutely unforgettable and incrediable. Andy Lau is extroadinary, he truly gives his character a heart and soul and the belief of redemption.
Infernal Affairs III (Mou gaan dou III: Jung gik mou gaan) Quotes
There are no approved quotes yet for this movie.