Ingenious
(2012)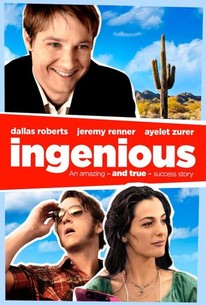 AUDIENCE SCORE
Critic Consensus: No consensus yet.
Movie Info
Remember the old saying "That's so crazy it might just work"? Two guys bet their futures on a notion that cliché seems to have been created to describe in this comedy-drama from director Jeffrey Balsmeyer. Matt (Dallas Roberts) and Sam (Jeremy Renner) are a pair of dreamers living in Tucson, Arizona who have a strong imaginative streak and a notion that they're going to strike it rich some day by inventing a gadget that will take the world by storm. Unfortunately, they lack both luck and business savvy; when Matt and Sam come up with a salable idea for a dog watch, it gets swiped from under them by Newkin (Richard Kind), a salesman who is seriously short on scruples, and it's only the latest in a long series of schemes that have gone wrong for them. Matt's wife Gina (Ayelet Zurer) has decided she's had enough, and he and Sam are looking bankruptcy in the eye when Matt hatches one last brainstorm he's convinced has promise. But who's really going to buy a talking beer opener? Also starring Eddie Jemison and Marguerite Moreau, Lightbulb was written and produced by Mike Cram, who based the story on his own experiences as one of the inventors of the talking bottle opener. ~ Mark Deming, Rovi
Critic Reviews for Ingenious
All Critics (2) | Top Critics (1) | Fresh (2) | Rotten (0)
A terrific little yarn about pluck, perseverance and friendship overcoming the odds, Lightbulb is exactly what's needed in these troubled times.
March 19, 2009
Audience Reviews for Ingenious
Adequate but would have benefited from a strong personality in the lead than Roberts.
Ingenious Quotes
There are no approved quotes yet for this movie.