Inglourious Basterds
(2009)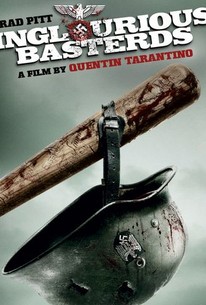 TOMATOMETER
AUDIENCE SCORE
Critic Consensus: A classic Tarantino genre-blending thrill ride, Inglourious Basterds is violent, unrestrained, and thoroughly entertaining.
Inglourious Basterds Videos
Inglourious Basterds Photos
Movie Info
"Inglourious Basterds" begins in German-occupied France, where Shosanna Dreyfus witnesses the execution of her family at the hand of Nazi Colonel Hans Landa. Shosanna narrowly escapes and flees to Paris, where she forges a new identity as the owner and operator of a cinema. Elsewhere in Europe, Lieutenant Aldo Raine organizes a group of Jewish soldiers to engage in targeted acts of retribution. Known to their enemy as "The Basterds," Raine's squad joins German actress and undercover agent Bridget Von Hammersmark on a mission to take down the leaders of The Third Reich. Fates converge under a cinema marquee, where Shosanna is poised to carry out a revenge plan of her own.
Critic Reviews for Inglourious Basterds
Audience Reviews for Inglourious Basterds
A little long in the run time I felt, but overall a very entertaining film with great performances from Brad Pitt and Christopher Waltz. The second half of the film is better as a plot to assassinate the top Nazi's in one hit slowly unravels with a few twists and turns.
Quentin Tarantino returns with the story of the Basterds, a group of Jewish soldiers performing guerilla warfare and terror tactics behind enemy lines to strike fear into the hearts of German soldiers during World War II. Inglourious Basterds is a very difficult film to pigeonhole. It's part Jewish revenge fantasy, part gung ho war film, part knowing parody of patriotic flag wavers and 100% Tarantino. His trademark patchwork of styles and references is as evident as ever; the opening scenes are pure Leone, turns into The Dirty Dozen and then zig zags off on tangents all over the place. It's impossible not to enjoy a film with this premise (unless you are a closet Fourth Reicher or member of the BNP) and Brad Pitt's hilarious send up of a hick war hero is almost as good as Christoph Waltz's high camp evil Sherlock Holmes (complete with pipe). But I'd have to say much of the film that does not feature these two could've stood for some judicious pruning and very oddly for a Tarantino film, the soundtrack sometimes just did not work. Unlike the likes of Lucas and Cameron though, Tarantino is a pure film fan's film maker so when he gets too self indulgent, it is with the direction, dialogue and characters rather than visual bullshit and so even at their worst his films are always interesting and of merit.
I'll be honest this was the first Tarantino film I've ever watched. However, if this is good, I can't wait to see his better films, like Pulp Fiction or Reservoir Dogs. With a superb opening with such an intense pace, from these 20 minutes, it's very clear of how powerful a performance Christoph Waltz gave, especially the fact he won the Oscar he surely deserved. The rest of the film is packed with violence, some good laughs and some intense moments in which hell breaks loose within seconds. To top this off, Christoph Waltz is backed up with Brad Pitt (Fight Club), Michael Fassbender (Prometheus) and even Director Eli Roth (Hostel). Overall, Inglorious is a superb feature, that is compared way too much with Tarantino's earlier work, which has a nice twist within its WWII setting. A must watch for action and Tarantino fans.
Samuel Riley
Super Reviewer
Inglourious Basterds Quotes
| | |
| --- | --- |
| Lt. Aldo Raine: | You know, Utivich? I think this just might be my masterpiece. |
| | |
| --- | --- |
| Master Sgt. Wilhelm/Pola Negri: | You need guns on me for it to be a Mexican standoff! |
| | |
| --- | --- |
| Lt. Aldo Raine: | Bawnjorno! |
| | |
| --- | --- |
| Lt. Aldo Raine: | Actually, Werner, we're all tickled to hear you say that. Quite frankly, watching Donny beat nazis to death is the closest we ever get to goin' to the movies. |
| Lt. Aldo Raine: | Actually, Werner, we're all tickled to hear you say that. Quite frankly, watching Donny beat Nazis to death is the closest we ever get to goin' to the movies. |