Inherit the Wind
(1960)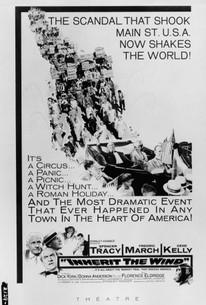 Movie Info
The Evolution vs. Creationism argument is at the center of the Jerome Lawrence-Robert E. Lee Broadway play Inherit the Wind. Lawrence and Lee's inspiration was the 1925 "Monkey Trial," in which Tennessee schoolteacher John Scopes was arrested for teaching Darwin's theory of evolution in violation of state law. Scopes deliberately courted arrest to challenge what he and his supporters saw as an unjust law, and the trial became a national cause when The Baltimore Sun, represented by the famed (and atheistic) journalist H. L. Mencken, hired attorney Clarence Darrow to defend Scopes. The prosecuting attorney was crusading politician William Jennings Bryan, once a serious contender for the Presidency, now a relic of a past era. While Bryan won the case as expected, he and his fundamentalist backers were held up to public ridicule by the cagey Darrow. In both the play and film versions of Inherit the Wind, the names and places are changed, but the basic chronology was retained, along with most of the original court transcripts. John Scopes becomes Bertram Cates (Dick York); Clarence Darrow is Henry Drummond (Spencer Tracy); William Jennings Bryan is Matthew Harrison Brady (Fredric March); and H. L. Mencken is E. K. Hornbeck (Gene Kelly). Dayton, Tennessee is transformed into Hillsboro -- or, as the relentlessly cynical Hornbeck characterizes it, "Heavenly Hillsboro."
Critic Reviews for Inherit the Wind
Audience Reviews for Inherit the Wind
This wonderfully-written film was daring for the time it came out and remains relevant in our times, as it exposes religion and bigotry as a hindrance to human thinking and impresses us with Fredric March's three-dimensional character, even though it ends with a terrible last scene.
Carlos Magalhães
Super Reviewer
Saw this for perhaps the fourth time, this time part of a DVD binge during a snowed in winter. Amazing how little has changed since 1925 when the "Monkey Trial" was held. I think this is the kind of thought provoking movie that is interesting to revisit at various times of your life. When I originally saw (as a kid) I had a real pro-science bias and just saw the white and black--creationists black, evolutionists white--of the argument. This time I saw much more nuance and the question that intrigued me most was: what do you stand for? If you go through life taking the safe middle--"I am not political"--or the sophomoric stance of everything is worthy of sneering contempt--at the end of the day, what are you? You have to take a definite position in life or you are just taking up space.
Bathsheba Monk
Super Reviewer
½
Even for the sixties this film was a hotbed of turmoil and religious fervor, though the story it was based upon was already forty years old. Science and reason are brought up as the cornerstones of knowledge, in this film, and they are the reason why this story exists. The very famous Scopes Monkey Trial, which spurred the play that this film is based on, has a lot to do with the framework that makes it up. Tracy, who was a hardnosed Catholic his entire life, even outright refusing to divorce his wife in the midst of his affair with Katharine Hepburn, plays the opposing counsel in the trial, on the side of the teacher who is prosecuted for teaching evolution. Frederic March takes on the role of a blithering Southern conventionalist, in the vein of William Jennings Bryant. Both roles are crafted to exemplify famous figures in law, between the former and Clarence Darrow. Their friendship and anonymity towards one another plays an interesting role in their battles within the courtroom. Drummond (Tracy) is a very hard to read character, who finds himself defending someone based on the sciences more than his own personal beliefs. Brady (March) is more apt to rely on his showmanship and oratorical skills than to quote law books. He also believes heavily in the forces that govern the trial, which makes his constant blow-ups hard to watch. It's much more about the two lawyer's world views than anything, and though they battle endlessly, neither gets exactly what they want. The courtroom scenes and speeches always feature such riveting and thought provoking performances from both March and Tracy. It's sometimes difficult to discern whether they are fighting about the well-being of a disenfranchised schoolteacher (who is played by Dick York in his last movie role) or about the fate of a country, torn apart by indecision and doubt. This film speaks about contemporary America as well as its contemporaries of the past, and does so with all the gusto of a contemporary courtroom drama.
Spencer S.
Super Reviewer
Inherit the Wind Quotes
| | |
| --- | --- |
| Hornbeck: | Mr. Brady, it is the duty of a newspaper to comfort the afflicted and afflict the comfortable. |
| Hornbeck: | Sit down, Samson, you're about to get a haircut. |
| Hornbeck: | Sit down, Samson, you're about to get a haircut. |
| Henry Drummond: | I don't swear for the hell of it. Language is a poor enough means of communication. We've got to use all the words we've got. Besides, there are damn few words anybody understands. |
| Henry Drummond: | I don't swear for the hell of it. Language is a poor enough means of communication. We've got to use all the words we've got. Besides, there are damn few words anybody understands. |
| Matthew Harrison Brady: | I have been to their cities and I have seen the altars upon which they sacrifice the futures of their children to the gods of science. And what are their rewards? Confusion and self-destruction. New ways to kill each other in wars. I tell you gentlemen the way of science is the way of darkness. |
| | |
| --- | --- |
| Hornbeck: | Mr. Brady, it is the duty of a newspaper to comfort the afflicted and afflict the comfortable. |