Inn of the Damned
(1975)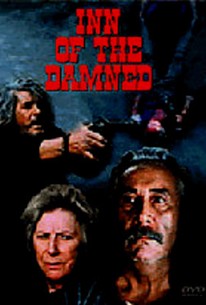 AUDIENCE SCORE
Critic Consensus: No consensus yet.
Movie Info
This Aussie/Western variation on the Psycho formula is set in the tiny Outback town of Gippsland in the 1890s, where travelers visiting a remote inn are being bumped off by a mysterious interloper. After a perfectly dreary hour or so, wily lawman Alex Cord solves the mystery that somehow managed to befuddle the rest of the cast -- it seems crackpot innkeeper Dame Judith Anderson and her husband have never quite recovered from the trauma of seeing their children killed by escaped convicts who once invaded their home, and they have been busily hacking up their guests ever since. The setting provides for some pleasant location photography and gives the film a unique look and feel, but the story is completely bogged down by dull pacing and lackluster performances -- except for Anderson, who is always a treat to watch, even when she's given little to work with. ~ Cavett Binion, Rovi
Critic Reviews for Inn of the Damned
There are no critic reviews yet for Inn of the Damned. Keep checking Rotten Tomatoes for updates!
Audience Reviews for Inn of the Damned
Using the psycho formula and mixing it with the Western, director Terry Bourke crafts a fun and entertaining horror film that is an obscured and forgotten gem of an Exploitation film to boot. Although far from perfect, the film does manage to pull together both genres of film very well and create something good in the process. The cast a good job with the material, although it is nothing new, Bourke manages to make a film that should nonetheless please genre fans. The film works well due to fluent directing, a great sense of atmosphere which adds to the terror and feel of a Western/Horror hybrid. Inn of the Damned is a good film to watch on a Friday night when you have nothing else better to do, and though not always exciting, thrilling due to some parts being a bit too slow, the idea behind the plot makes it very entertaining and worth seeing. In terms of Ozploitation, the Aussi's were just getting started and with this film, it showed the potential of such great films that would follow in later years. The tone of the film is what stands out the most about it, it's eerie and creepy and there are plenty of tense moments. Even if it uses recycled ideas, this is a film worth checking out due to the fact that it combines two genres well enough to make it enjoyable if you're a fan of these types of films. Although not a great movie, it still has its place in the Australian Ozploitation genre and it is a film worth checking out if you want to check out the earlier attempts of Aussie horror filmmaking. This is a confident movie that overcomes its flaws by being something different as well as something familiar.
Inn of the Damned Quotes
There are no approved quotes yet for this movie.