The Inn of the Sixth Happiness
(1958)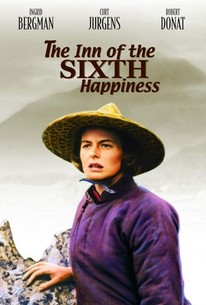 The Inn of the Sixth Happiness Photos
Movie Info
Alan Burgess' novel The Small Woman was the source for the British/American co-production Inn of the Sixth Happiness. Set in the China of the 1930s, the film stars Ingrid Bergman as real-life missionary Gladys Aylward. Against the advice of practically everyone, Gladys heads into the war-ravaged interior to spread the Christian gospel. She finds a powerful ally in the form of an elderly Mandarin (Robert Donat) who, despite his early efforts to rid himself of the troublesome Gladys, eventually converts to Christianity. Gladys' burgeoning romance with Chinese army officer Lin Nan (Curt Jurgens) is interrupted when she is obliged to guide a group of Chinese children to safety over some of the most treacherous of Northern China's mountain regions. Inn of the Sixth Happiness retains its entertainment value some four decades after its production, even allowing for the preponderance of Occidental actors in Oriental roles. The film also served to breathe new life into the old children's nonsense song "This Old Man" (aka "Knick, Knack, Paddywhack"). ~ Hal Erickson, Rovi
Critic Reviews for The Inn of the Sixth Happiness
Audience Reviews for The Inn of the Sixth Happiness
It isn't a white man in China but rather a white woman saving the day. For that point alone, I reduce it by a star but you can't stay too upset with this film. It has good performances and an interesting story line.
John Ballantine
Super Reviewer
Finely wrought drama of a truly brave selfless woman. Not a lot of Hollywood artifice just a simple story of someone who felt a calling and pursued it with single minded determination to find it made her life one of meaning and importance. Ingrid Bergman is perfectly cast here and give a beautiful performance supported by a fine Curt Jurgens and especially the touching and dignified Robert Donat in his last film. A winner.
½
Ingrid Bergman is both beautiful and compelling in this story of an English missionary in China. Her presence elevates what would otherwise be an ethnocentric and somewhat dated film.
Randy Tippy
Super Reviewer
The Inn of the Sixth Happiness Quotes
There are no approved quotes yet for this movie.