The Inner Life of Martin Frost
(2007)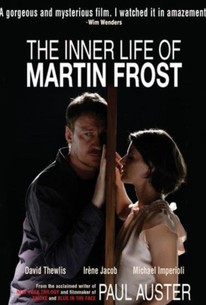 The Inner Life of Martin Frost Photos
Movie Info
After working for three years on a novel, writer Martin Frost borrows the empty country house of his friends for a long-needed rest. No sooner does he arrive, however, than an idea for a new story inspires him to get back to work. When he wakes the following morning, eager to begin his new tale, Martin is shocked to find a strange young woman sleeping next to him in bed--the attractive, effervescent Claire. Presumably the niece of his hosts, Claire wittily overcomes Martin's initial resistance to her, and the two of them agree to share the country house, while promising to respect each other's space. Soon their attraction for each other takes over and they begin to fall in love. But, is Claire really the person she claims to be? As Martin nears the finish of his story, Claire falls deathly ill. Does this mysterious muse have an existence independent from Martin's story? Can the imaginary cross over into the real world, and, if so, what are the consequences?
Critic Reviews for The Inner Life of Martin Frost
Audience Reviews for The Inner Life of Martin Frost
Martin Frost retreats to his friends' up-state cottage, and as a story comes upon him, he falls for a beautiful, mysterious woman. But when he finishes writing his story, she dies, and she miraculously comes back to life when he burns the only copy of the story. Together they must work out how to trick the hidden "muse gods" so that they can live together. This is the plot of The Inner Life of Martin Frost, and like most of Auster's plots, it sounds simple to the point of banal, magical to the point that it defies suspension of disbelief. But these criticisms underestimate the feeling of an Auster story. His work rises organically out of the characters, seemingly created by the characters instead of their author. And this is the point of the film. Do we create our lives, or are the events that shape us brought upon us? This theme is similar to his novel The Travels in the Scriptorium, which includes cameos by characters in his other books. Likewise, the film explores the relationship between an artist and his art. In Smoke Thomas responds to the story of Bakhtin smoking his book by saying, "No writer would do that." Apparently Martin Frost would. The question is would an artist sacrifice his art for his life? Auster says yes, but his eventual obsession with Claire and when he tries to turn her into art, we wonder if that "yes" is definitive. Not many people on Flixster, including critics, liked this film, but fans of Paul Auster's fiction and existential, allegorical stories will be like pigs in shit.
Jim Hunter
Super Reviewer
The Inner Life of Martin Frost Quotes
There are no approved quotes yet for this movie.