Innocence
(2001)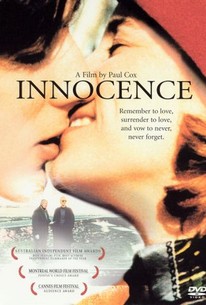 TOMATOMETER
AUDIENCE SCORE
Critic Consensus: Not only does it break ground in presenting a rarely examined age group, Innocence is a well-acted, powerful story about love.
Movie Info
Lovers in Belgium during WWII, Claire (Julia Blake) and Andreas (Charles Tingwell) are shocked to discover that, after a 45-year separation, they are neighbors in the same Melbourne neighborhood. Andreas has been a widower for 30 years, while Claire is happily though not passionately married to John (Terry Norris), whom she hasn't slept with for two decades. Andreas and Claire resume their heady sexual relationship, much to the disapproval of their loved ones. Director Paul Cox cuts between footage of the couple in the present and the past, examining how they have and haven't changed over the years, and the bond that continues to keep them together.
Critic Reviews for Innocence
Audience Reviews for Innocence
taking on a seldom seen topic, Innocence contains some very poignant moments while the script peals off messages on the true meaning of love. Introduced by narrative letters we learn that Andreas has discovered that his "first love" is living in the same town, so he deems to write to her. The story then unfolds - the first re-uniting, etc, all while the film interjects scenes from their past (which I found to be off putting at first, but then found it to be well within the feel of the film). That the two are in fact still in love is interesting, as both feel empty in their lives and see in the other the possibility of fullfillment. But is this love? Of a sort, to be certain - and it is the examining of the nature of love that the film is all about; from the fuddy husband who realizes only too late that he has taken his wife for granted all these years, to the wife who reacts to the invitation to love again as only a woman living as a ghost can react - with full bravado that collides directly with her years of accumulated common sense. There is a telling scene in which the woman is at a small party, dancing and laughing, suddenly alive - and her husband watches and realizes, all too late, that he does indeed love her, and has neglected her in his own narcisism. From this scene you can see that his reaching out to her is more than just a selfish need to protect his property. The pentultimate scene, in which Andreas plays the pipe organ for his love is beautiful, not only in the emotion that he pours into his performance, but in her reaction, letting the music swell over her like waves, only to drown in the true expression of love. Such a truth, and yet, the final voice over, in which she speaks from the grave to me lost all the momentum it had carries until that point - claiming that she loved both Andreas and her husband, each in their own way, was totally bogus and a false note in what otherwise was a beautiful tome to ageing and to endless love.
paul sandberg
Super Reviewer
Innocence Quotes
There are no approved quotes yet for this movie.