An Innocent Man
(1989)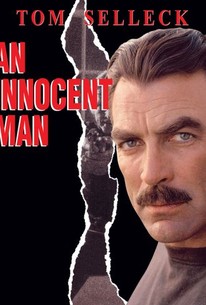 Movie Info
In Peter Yates' crime drama An Innocent Man, Tom Selleck plays Jimmie Rainwood, a stock figure airline maintenance supervisor with a perfect family. Then, one day, Jimmie decides to take a shower. While scrubbing himself clean, two crooked cops are getting themselves dirtier. Mike Parnell (David Rasche) and Danny Scalise (Richard Young) are the kind of bad cops who bust the drug dealers, steal their supply, and sell it back to the local drug lords. On this day, unfortunately for Jimmie, they get the wrong address and bash down his door. When Jimmie comes out of the bathroom wielding his hair dryer, Parnell and Scalise think it is a gun and shoot him. Realizing their mistake, they cover themselves and frame him as a drug dealer. Jimmie refuses to take a plea and he is sentenced to six years in the slammer. In the brutal prison environment, he is taken aside by long-timer Virgil Kane (F. Murray Abraham), who gives him a bleak collection of options to chose from in order to survive prison. After seeing a prison gang rape, Jimmie chooses the kill-or-be-killed selection and stabs to death the nasty black convict who has been bothering him. After three years, Jimmie is released on parole, and he tries to pick up his life again. But Parnell and Scalise return to threaten Jimmie and his family. Realizing that his prison lessons must be carried over into civilian life, he sets up a situation in which the bad cops' drug dealings are revealed, and Jimmie prepares for a final reckoning between the cops and himself.
Critic Reviews for An Innocent Man
All Critics (8) | Top Critics (1) | Fresh (3) | Rotten (5) | DVD (1)
An Innocent Man has all the elements to put us through an emotional wringer, but the movie never works up any enthusiasm for them. It's the most relaxed crime movie of the year.

...an entertaining, engaging drama that benefits substantially from Selleck's charismatic (and sympathetic) turn as the central character.
The scenes of Selleck in prison are good, but his out-of-prison revenge is too contrived.
October 6, 2005 | Rating: 2/5
Audience Reviews for An Innocent Man
½
Tom Selleck is forced to get TOUGH to survive in prison, when he is framed for murder. He doesn't look good in blue, and looks better in Hawaiian shirts as Magnum P.I. It's a bit scary when anybody as nice as Tom Selleck can get sent to prison. The scene where the guards take away his wedding ring was sad. F. Murray Abraham helps him get even against a nasty gang of cons. Once Tom gets out of prison, he has real "conviction" to go after the bad cops who framed him, with a great ending scene. Not the most exciting film, but it has some unintentionally funny scenes.
Lafe Fredbjornson
Super Reviewer
Rather clumsy prison flick that is yet more proof that Tom Selleck does not have the star presence to carry a project beyond the small screen. F Murray Abraham provides some dramatic gravitas, but it just feels so "straight to video".
Average mystery-thriller of a framed guy surviving in prison' story.
Dean McKenna
Super Reviewer
An Innocent Man Quotes
There are no approved quotes yet for this movie.