Insanitarium
(2008)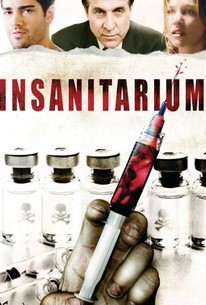 AUDIENCE SCORE
Critic Consensus: No consensus yet.
Movie Info
A devoted brother gets more than he bargained for when he takes the rap for his criminally inclined sister and gets placed in the care of a doctor who's using his patients as guinea pigs for a terrifying new drug. Upon being administered a dose of the experimental medication, the test-subjects transform into violent, flesh eating psychopaths. Jesse Metcalfe, Olivia Munn, and Carla Gallo star in a horror film written and directed by Midnight Meat Train scribe Jeff Buhler.
Critic Reviews for Insanitarium
There are no critic reviews yet for Insanitarium. Keep checking Rotten Tomatoes for updates!
Audience Reviews for Insanitarium
this should be a movie that i enjoy because i love zombie movies but this is truly a terrible movie. Probably one of the worst zombie movies ive ever watched. The whole story fails to impress is just not worth the watch.
Film Crazy
Super Reviewer
Nothing like a good mental hospital movie gone zombie halfway through. Peter Stormare always adds bonus points, as does forced one-liners.
Curtis Lilly
Super Reviewer
So this is apparently the guy writing "Midnight Meat Train" which is supposed to be THE next big horror movie. Well the last time there was hype of this tone, it came in the form of Eli Roth and Hostel- so I'm aware of false prophets. To describe the movie quickly, it's like a z-budget crew does better than they should, but considering they're not even coloring that corn syrup right, there's not much to expect of them. There's no story here; the doctor character is so vapid and like a character exercise than a real character. The plot's dumb - guy gets himself committed so he can save his sister from the hospital's secret experiments which is turning the residents into zombieish-wannabes. It's "The Crazies" but set entirely in an asylum, which would sound AWESOME, but the one scene in Nightmare on Elm Street (2 I think it was or maybe 3) where the madmen rape Freddy's mother to create him packs more punch than this whole film. It's a nice try, but inconsequential because its script sucks. You can't have a totally serious take on this plotline in modern horror - it's just laughable to make something so artificial seem important with this sort of action-oriented directing approach. All bitching done, this is better than 'Cabin Fever' so maybe MMT has hope yet if the Buhlan guy has gotten better at his form and the director can make the actors take his stuff seriously (if he insists on continuing with the serious, everything needs tightening ESPECIALLY his characterizations... this is pathetic and akin to what a "madlibs horror bot" would generate, cept it's not at all amusing, and it certainly doesn't scare. People should only be seeing this years and years from now IF and BECAUSE of what the director has done since, like how I look back on Romero's "The Crazies" and can see the talent percolating but not yet peaking. Thing is though - if you pit this movie directly against "The Crazies" from which it derives, Insanitarium's clunky melodrama cannot stand up to the simple fear drama of the focal group in "The Crazies". There are a few promising cinematography shots in the movie, and the director does better than most with production effects (except for the blood color problems). High body count, but low logic. Sometimes that can be a great combo. Most of the time, like now, it is just as crappy and thrill-less as it sounds.
_kelly .King
Super Reviewer
Insanitarium Quotes
There are no approved quotes yet for this movie.