Inseminoid (Horror Planet)
(1981)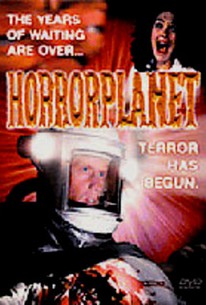 AUDIENCE SCORE
Critic Consensus: No consensus yet.
Movie Info
This unsettling British Alien clone (released in the U.K. under the sleazy title Inseminoid) is set in the labyrinthine underground caverns of a remote planet, where a team of scientific explorers find themselves in the bizarre predicament of defending themselves from a rampaging, pregnant crew member (Judy Geeson). It seems the poor woman has been impregnated by a slime-covered insectoid alien (as depicted in a surreal and truly disgusting flashback), and the resulting hormonal imbalance has transformed her into an inhumanly strong, psychopathic killer. She promptly sets about dismembering and eating everyone in sight (no doubt because of the baby's nutritional requirements) before finally giving birth to a pair of snarling little mutants bearing a more-than-passing resemblance to the terror tykes from the It's Alive series. Aside from the admittedly "unique" premise, this is a fairly standard rip-off -- complete with characters resembling their Alien counterparts -- and the lovely Geeson's rabid, eye-popping performance is more than a bit uncomfortable to watch. The American video release is missing a great deal of the original's graphic violence. ~ Cavett Binion, Rovi
Critic Reviews for Inseminoid (Horror Planet)
There are no critic reviews yet for Inseminoid (Horror Planet). Keep checking Rotten Tomatoes for updates!
Audience Reviews for Inseminoid (Horror Planet)
Another Norman J. Warren movie that hates women, this Alien rip-off sets a pregnant woman on an hysterical murdering rampage that thinks it's smart on doing this twist, since she was raped by an Alien (on a rather explicit and tasteless scene). Yeah, it doesn't make any sense. The actors don't help as well, since they're awful beyond belief and they have to utter the stupidest dialogues one can imagine. This guy never made a decent movie in his life. Hell, check Ed Wood, he has a rather horrible career but at least it's fun to watch his movies. The problem is that Norman J. Warren was clearly a misogynist that had something against women and his bad movies are nowhere near the enjoyable thanks to these approaches.
Francisco Godinho
Super Reviewer
Inseminoid (Horror Planet) Quotes
There are no approved quotes yet for this movie.