Inside Job
(2010)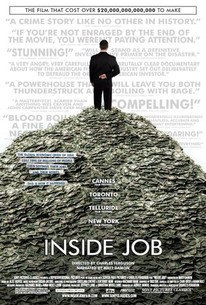 TOMATOMETER
AUDIENCE SCORE
Critic Consensus: Disheartening but essential viewing, Charles Ferguson's documentary explores the 2008 Global Financial Crisis with exemplary rigor.
Movie Info
From Academy Award (R) nominated filmmaker, Charles Ferguson, comes "Inside Job," the first film to expose the shocking truth behind the economic crisis of 2008. The global financial meltdown, at a cost of over $20 trillion, resulted in millions of people losing their homes and jobs. Through extensive research and interviews with major financial insiders, politicians and journalists, "Inside Job" traces the rise of a rogue industry and unveils the corrosive relationships which have corrupted politics, regulation and academia.
News & Interviews for Inside Job
Critic Reviews for Inside Job
Audience Reviews for Inside Job
½
An angry, compelling and must-see documentary that dissects the causes and consequences of the global economic meltdown of 2008, probing deep into the truth behind it and exposing a corrupted political system that favors the wealthy to the detriment of the poor.
Carlos Magalhães
Super Reviewer
Sobering view of unchecked greed and irresponsibility. After watching a series of consciousless slimeballs spew stonewalling crap you'll feel the need for a shower.
Brilliant documentary on the financial crises, Inside Job delivers an engrossing portrait of what happened in 2008, and is a film that is narrated by Matt Damon. Brilliant in the way that it focuses on its important subject, this is a must see documentary that anyone interested in the topic should watch. Featuring key interviews, Inside Job goes in depth about the financial crises of 2008. The content will make you think and angry as well. The film doesn't shy away from anything and it's a very well crafted documentary that should be seen. The film is unique and is a great film to watch to get a better idea of how it happened. Featuring several eye opening interviews, Inside Job is an accomplished film about this controversial topic. Brilliant in the way it goes in its subject, the documentary sheds light on many issues on the crises and director Charles Fergusson gives the viewer a much insight about how the economy collapsed and it's an enraging account and makes you ask several important questions. Watching this made me realize one thing as well, the poorer get poorer and the richer get richer. I really enjoyed this documentary, and I feel it's one of the most important documentaries to come out in a long time. Damon's narration on the subject highlights everything you need to know and it keeps you hooked from the moment the film starts, right up to the end. To me, it's absolutely sickening that bankers were able to make a profit, while the economy was failing. Because of the 2008 crises, many regular people have had a hard time recovering. This is a documentary that is eye opening, infuriating and thought provoking, it's one of the finest documentaries I've seen, and it's one that shouldn't be missed.
Inside Job Quotes
| | |
| --- | --- |
| Narrator: | For decades the American financial system was stable and safe. But then something changed. The financial industry turned it's back on society, corrupted our political system and plunged the world economy into crisis. At enormous cost, we've avoided disaster and are recovering. But the men and institutions that caused the crisis are still in power and that needs to change. They will tell us that we need them and that what they do is too complicated for us to understand. They will tell us it won't happen again. They will spend billions fighting reform. It won't be easy. But some things are worth fighting for. |
| | |
| --- | --- |
| Narrator: | Why should a financial engineer be paid four times to 100 times more than a real engineer? A real engineer build bridges. A financial engineer build dreams. And, you know, when those dreams turn out to be nightmares, other people pay for it. |
| Narrator: | Why should a financial engineer be paid four times to 100 times more than a real engineer? A real engineer builds bridges. A financial engineer build dreams. And, you know, when those dreams turn out to be nightmares, other people pay for it. |
| | |
| --- | --- |
| Narrator: | For the first time in history, average Americans have less education and are less prosperous than their parents. |
| Narrator: | For the first time in history, average Americans have less education and are less prosperous than their parents. |