Inside Led Zeppelin: A Critical Review - 1968-1972
(1968)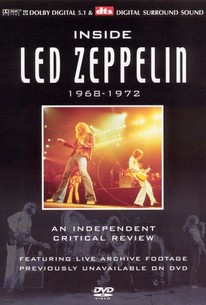 AUDIENCE SCORE
Critic Consensus: No consensus yet.
Movie Info
Combining blues structures with the power and volume of hard rock, Led Zeppelin was one of the pioneering bands of what would come to be known as heavy metal, and through much of the '70s the group was among the most popular and acclaimed rock bands on Earth. Inside Led Zeppelin 1968-1972 - A Critical Review is a documentary which looks at the influence and legacy of this great band, featuring rare newsreel footage, little-seen concert clips (including a performance of Eddie Cochran's "Let's Have A Party"), and interviews with journalists and musicians who analyze Led Zeppelin's most important recordings.
Critic Reviews for Inside Led Zeppelin: A Critical Review - 1968-1972
There are no critic reviews yet for Inside Led Zeppelin: A Critical Review - 1968-1972. Keep checking Rotten Tomatoes for updates!
Audience Reviews for Inside Led Zeppelin: A Critical Review - 1968-1972
Inside Led Zeppelin is a too short retrospective look at the legendary band. For fans of the band, they'll want something much more in depth considering the iconic nature of the band. The film offers little in depth content of the band, and it's vague in nature because it never goes fully in detail in specific periods of the band. I liked this one, but I also wanted a bit more as well. If you want a thorough documentary about the band, you'll be disappointed as this one has a short run time, and never really goes fully into the history of the band. I think that a more thorough film should be made on Led Zeppelin and they certainly deserve it, but this one was simply stitched together to create some form of film to cash in on the fame of the band. Overall, a good little short, but it is not the complete history of the band, and it leaves diehard fans wanting much more. Inside Led Zeppelin serves more as a type of film that can wet your appetite for the band, and it succeeds at doing so, but it also frustrates fans because it lacks a significant portrait of the band. Eventually, a stellar documentary about the band should be made and this band, considering its contribution to music, deserves a proper documentary. This is a review of their career, nothing more, and it should be seen strictly by the Zeppelin completists, and even then, they'll surely be disappointed because the material presented here is nothing new and it's something that every fan already know. Hopefully a film will surely surface that manages to not only tell the band's story, but also critiques the band's most legendary works. As it is, Inside Led Zeppelin really doesn't bring to light new information and is an analysis of the band, which is good, but is disappointing at the same for viewers wanting more.
Inside Led Zeppelin: A Critical Review - 1968-1972 Quotes
There are no approved quotes yet for this movie.