Inside Out
(2011)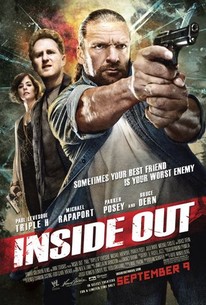 Movie Info
For the last thirteen years AJ (Triple H) has been behind bars, convicted of manslaughter for killing a man who intended to kill his best friend, Jack (Michael Rapaport) a high-strung low-level mobster. Now released, AJ wants nothing more than to start a small business and live a life free of crime. Unfortunately, within hours of leaving prison, Jack involves AJ in an accidental shooting leaving a man dead. When Jack's father, local mob boss Dr. Vic (Bruce Dern), hears the news he wants the mess cleaned up, and fast. With the authorities hot on his trail, Jack is now forced to skip town. Well aware of Dr. Vic's violent past, AJ will stop at nothing to protect Jack's wife, Claire (Parker Posey), the woman he's always loved and her daughter Pepper (Juliette Goglia). -- WWE Studios
News & Interviews for Inside Out
Critic Reviews for Inside Out
Audience Reviews for Inside Out
Before the one made by Disney and Pixar, we had this. Disney and Pixar just made WWE Studios look like a complete mess when it comes to this film.
EpicLadySponge the Adventurer
Super Reviewer
Pretty much a peace of trash, Inside Out is an extremely boring movie that should be among the worst movies of all time. If you have read the movie description, you somewhat know everything. A man getting out of prison after thirteen years... interested in reforming his life... and then messed up in an idiotic scenario... But the movie is far worse than this description. Interestingly, it doesn't even have anything for wrestling fans, like melee fights or body figure scenes showing off HHH. Stick to WWF or WWE or what ever its called noe. A Good Teeny Bobber Movie. 1 Star 3-27-14
Bruce Bruce
Super Reviewer
½
A sharp, intense and character-driven crime-thriller. A real dish out of character study, drama, gritty action and suspense. Paul Triple H Levesque and Michael Rapaport are excellent, these guys have solid chemistry that just adds more to the film and has lots of strength. Triple H has such great dramatic ability that is surprsing considering his background, but he makes it work and especially with other great liks, Bruce Dern and Parker Posey by his side and not to mention Rapaport who always seems to be a joy. An exciting and thrilling first-time feature from the director and writer.
Inside Out Quotes
There are no approved quotes yet for this movie.