The Insider
(1999)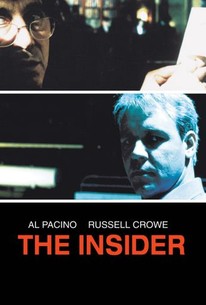 Movie Info
The Insider tells the true story of a man who decided to tell the world what the seven major tobacco companies knew (and concealed) about the dangers of their product. Jeffrey Wigand (Russell Crowe) was a scientist employed in research for a tobacco firm, Brown and Williamson. Not long after he was fired by Brown and Williamson, Wigand came into contact with Lowell Bergman (Al Pacino), a producer for 60 Minutes who worked closely with journalist Mike Wallace (played here by Christopher Plummer). Bergman arranged for Wigand to be interviewed by Wallace for a 60 Minutes expose on the cigarette industry, though Wigand was still bound by a confidentiality agreement not to discuss his employment with the company. Despite Wigand's willingness to talk, CBS pulled his interview from at the last minute after Brown and Williamson threatened a multi-billion dollar lawsuit. The staff of 60 Minutes and CBS News were soon embroiled in an internal struggle over the killing of the story, and Wigand found himself the subject of lawsuits and a smear campaign, without his full story reaching the public. The Insider was directed by Michael Mann and also features Diane Venora, Philip Baker Hall, Debi Mazar, Colm Feore, and Rip Torn. ~ Mark Deming, Rovi
Critic Reviews for The Insider
Audience Reviews for The Insider
½
After seeing almost all of Michael Mann's films, I was expecting "The Insider" to have a narrative centered around a suave Los Angeles night brooding with a cops-or-robbers-esque narrative bolstered with realistic gunfights. For the most part, this is what I loved about Michael Mann's films. "The Insider" is nothing alike anything Mann has dished out. This is an intelligent, dialogue-driven, and highly engaging thriller centered around commanding storytelling. Never once during its 2 hours and 37 minutes of running time does "The Insider" get dull. There's no explosions to be seen; no sporadic bullets fired about the scene. Instead, the pacing is flawless due to a razor-sharp script, enthralling performances, and a narrative that is too engaging to be anything but so. And this is by far, the most commendable aspect of the film: the storytelling. The narrative is so deeply intriguing and constantly evolving that, admittedly how little character-development is involved, it's too late -- the film has already reached the highest point of entertainment value a movie can exhibit. At the heart of it all, "The Insider" is nothing more than a real and interesting story, but what a hell of a story it is. "The Insider" carries many of the same mechanics that tend to bog down Mann's films: Little character development, female roles that have one-dimensional characteristics, and themes that aren't particularly fleshed out to be the central attention. However, "The Insider"'s narrative is just too good to knock away as a mere B-movie. This is what cinema's all about. This is by far, Michael Mann's most intelligent and creative film he's ever made.
I wasn't sure that it was possible, but this just might be Michael Mann's best film, or at the very least, right up to par with Heat. In a lot of ways (that I probably won't spend the time to list) it is very similar to that one. The plot here is based on actual events (though dramatized at times for cinematic effect) and follows Dr. Jeffrey Wigand, a recently fired employee of a major tobacco company who decided to become a whistleblower back in the mid 1990s by collaborating with 60 Minutes producer Lowell Bergman to expose the truth about the harmful effects of nicotine, and the efforts of the industry to hide it. I'll say it: the film isn't really about the tobacco industry. It's about the toll that a crusade for truth and justice can take on people, and the efforts that some will go to in order to stop the crusade. It's rather frightening, really. Both Wigand and Bergman took professional and personal (especially Wigand) risks, and Mann shows all of this is great detail, and it is all very absorbing, gripping, and fascinating. Plus, the lengths that companies go to in order to keep secrets is equally scary and enlightening. In many ways, this is a thriller, albeit of the talky and unconventional kind. There are serious moments of suspense, and the tension really gets ratcheted up to some high levels at times. Given the film's basic plot line, that seems unexpected, but since Mann is at the helm, maybe it's not as surprising. And, like HEat, this is a lengthy film that is very dense, layered, and filled with depth and development, yet it is never boring, and really cruises right along. You really start to feel and identify with the characters, and you care about the consequences (good and bad) of their decisions. The Mann look and style are in full swing here, and this is a beautifully shot and absolutely gorgeous piece of work. The symbolism and expressiveness of the tone and mood really sing, and they are more than just window dressing for the sharp script. And, as one might expect from a heavy sort of film, there's some major palyers here, and they definitely deliver. Pacino shows up for round two with Mann, and his turn as Bergman is wonderful. It really saddens me that he hasn't had a role this great since this film. Crowe likewise delivers terrific work, and really digs deep into method acting in order to bring the less than glamorous looking Wigand to life. For me though, the real highlight with the acting comes from Christopher Plummer as Mike Wallace. How in the world did this film get nimonated for so many Oscars, yet win basically (if I' not mistaken) none of them? Especially Plummer. He's an absolute delight here. Bottom line: see the damn film. Yes, there's a message here, but even then the film is very well rounded and despite being heavy, it is watchable and entertaining, and doesn't come off as being a chore to endure.
Chris Weber
Super Reviewer
½
Excellent...I had high expectations, but this was brilliant! The acting in this film is excellent, especially from leading actors Al Pacino and Russell Crowe, who recieved an Oscar nomination for Best Actor. His performance is excellent, but for me it was Al Pacino who deserved the Oscar nod. He gives a fantastic performance. The scipt of The Insider is genius! Even scenes with two characters talking in a car are intense. The dialogue in this film is so realistic and strong through the very long 170 minute running time, but it never lets up. Another thing that stuck out about this film is the music, not the music itself, but the way it is used! Even in the scenes where there is only soft music in the background, but it still adds SO much to emotion of the story. Finally, the direction is phenomenal in this film! This was my first Michael Mann film so I didn't know what to expect, but I definitely plan to seek out his other work now. The Insider is an intense and emotional thriller that is a must see. Nominated for 7 Academy Awards including Best Picture and Best Director, see this movie!
Jameson Worley
Super Reviewer
The Insider Quotes
| | |
| --- | --- |
| Lowell Bergman: | You'd better take a *good* look, because I'm getting two things: pissed off and curious |
| Lowell Bergman: | You'd better take a *good* look, because I'm getting two things: pissed off and curious. |
| | |
| --- | --- |
| Jeffrey Wigand: | Absolutely brilliant! |
| | |
| --- | --- |
| Lowell Bergman: | I hear shut the segment down, cut Wigand loose, obey orders and fuck off, that's what I hear |
| Lowell Bergman: | I hear shut the segment down, cut Wigand loose, obey orders and fuck off, that's what I hear. |
| | |
| --- | --- |
| Lowell Bergman: | And he's only the key witness in the biggest public health reform issue, maybe the biggest most expensive corporate malfeasance case in US history |
| Lowell Bergman: | And he's only the key witness in the biggest public health reform issue, maybe the biggest most expensive corporate malfeasance case in US history. |
| Lowell Bergman: | And he's only the key witness in the biggest public health reform issue, maybe the biggest, most-expensive corporate-malfeasance case in U.S. history. |