Insignificance
(1985)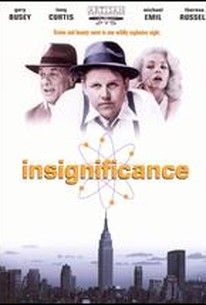 Movie Info
Using four famous but unnamed individuals to symbolize a notorious era in American politics, as well as to explore the nature of despair, director Nicolas Roeg has created an intriguing drama. Based on a play by Terry Johnson, the story begins with the blond Theresa Russell as a sex-goddess actress working on a scene over a subway grate, with her skirts billowing out in the updraft. A famous Professor from Princeton with white hair opens his door to the actress, who takes out a few props and goes through her rendition of the theory of relativity. Between her theatrical mode of speech and his world of mathematics, there is a certain entente. Enter the ballplayer who is her husband (Gary Busey), in love but without a clue as to the actress' inner sadness. Throw in the senator from Wisconsin (Tony Curtis) before whose sub-committee on Unamerican Activities the Professor has to appear, and the undercurrent of a societal witch-hunt that ruined many careers in Hollywood, in academics, in sports, and in politics is churned into the story. ~ Eleanor Mannikka, Rovi
Critic Reviews for Insignificance
Audience Reviews for Insignificance
½
Insignificance is an interesting and talky film: part comical, part intellectual, just a bit tragic. It has some upfront symbolism, which may add value if you get it or may irritate you. While it does not really feel much at all like Bunuel films in terms of vibe, it is reminiscent in that it digests human culture through a comical dream play. The performance of Theresa Russell as "The Actress" stands out, she plays her character with a combination of winking intrigue and stoicism. How much of life is an act? How much is play? How much and what should be taken seriously? The character interactions feel at times authentic (or at least sincere), at times spontaneous, but then falling into stereotype. Anyhow, this is the type of film where your enjoyment of it will be largely based on how much you get it (there is not enough else in the film to be appreciated by itself). For myself, I understood it somewhat and enjoyed it somewhat.
Robert Brogan
Super Reviewer
I really liked some parts of Insignificance, but there's a forced art house aspect to it that just seems unnecessary and weakens the movie.
I'm still trying to work out what it all means, but its possible that there isn't a coherent central theme here, other than placing a few of the defining figures of the 50s in one room to see what happens. I found most of it interesting, especially watching the Marylin Monroe character demonstrate the theory of relativity, and while its admittedly confusing I like that its really trying to grasp for the soul of a distinctive American decade.
Alec Barniskis
Super Reviewer
Insignificance Quotes
| | |
| --- | --- |
| Ballplayer: | I am not stupid. I just enjoy giving the appearance of being stupid. You see from an early age I have reveled in the appearance of stupidity, it has given me a great deal of time to think. |
| | |
| --- | --- |
| Professor: | Knowledge isnt truth. Its just mindless agreement. You agree with me, I agree with someone else - we all have knowledge. We havent come any closer to the truth. You can never understand anything by agreeing, by making definitions. Only by turning over the possibilities. Thats called thinking. If I say I know, I stop thinking. As long as I keep thinking, I come to understand. That way, I might approach some truth. |