Instant Family
(2018)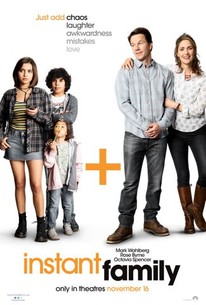 TOMATOMETER
AUDIENCE SCORE
Critic Consensus: Instant Family may not quite capture the complexity of real-life adoption, but fittingly for the unconditional bond it honors, this flawed yet well-intentioned dramedy is ultimately worth the investment.
Movie Info
When Pete (Mark Wahlberg) and Ellie (Rose Byrne) decide to start a family, they stumble into the world of foster care adoption. They hope to take in one small child but when they meet three siblings, including a rebellious 15 year old girl (Isabela Moner), they find themselves speeding from zero to three kids overnight. Now, Pete and Ellie must hilariously try to learn the ropes of instant parenthood in the hopes of becoming a family. INSTANT FAMILY is inspired by the real events from the life of writer/director Sean Anders and also stars Octavia Spencer, Tig Notaro and Margo Martindale.
News & Interviews for Instant Family
Critic Reviews for Instant Family
Audience Reviews for Instant Family
A charming mostly realistic portrayal of fostering children led by winning performances by Byrne and Wahlberg and the kids are also superb. Great support from Martindale, Haggerty, Spencer and Notaro. Heartwarming and sad but written perfectly. 03-10-2019
Christopher Oakley
Super Reviewer
This hit a certain personal spot for me & the wife having recently gone through the process of opening our house for adoption/fostering. Instant Family balances the reality and seriousness of the issues with the system and the numerous unseen ramifications being risked when taking on the task of fostering or adopting with the humor necessary to make it through everything without losing ones mind. Yeah, this is about as accessible and as broad a comedy a studio can make, but the film doesnï¿ 1/2(TM)t sugarcoat the harsh realities of the foster care system and, more specifically, the circumstances of the scenario weï¿ 1/2(TM)re presented with in the film. I kind of loved it. Wahlberg and Byrne do their best versions of their most likable personas and the kids are even better. This may look and feel like a mainstream Hollywood family comedy, but it cuts to some pretty deep places, poses some rather gutting questions, and does it all with such a strong sense of purpose itï¿ 1/2(TM)s impossible to ignore. Also, the The Blind Side bit is too good and Tig Notaro and Octavia Spencer need a buddy comedy in an active stage of production like yesterday.
Philip Price
Super Reviewer
½
Family-friendly fare is hard to come by in terms of quality content, due to the fact that every story has pretty much been told. While Instant Family isn't the most original film out there, it sure works very hard to win over audiences. I wasn't looking forward to this one very much because the ads looked very formulaic and unfunny to me. Surprisingly, I can't recommend this film enough. It's very rare that I find a film that I had no interest in, that I end up nearly falling in love with. Sure, this is a breezy watch for families of all ages, but this is a very sweet story, told in a way that tugs at your heartstrings, while also remaining genuine and authentic from start to finish. This may be a studio trying to earn a quick buck with families, but if that's the only negative, there's no reason I can't recommend this one to everyone. Following Pete and Ellie as they decide to adopt a teenager, they quickly realize their lives are about to be flipped upside down, due to the fact that Lizzy (their adoption choice) comes with two younger siblings as well. Willing to take the risk, they adopt three children and their daily routines are forever changed. With great progression in terms of coming to terms with reality, this movie balances the perspectives of the children, as well as the adults, equally, which was a breath of fresh air. This movie never chose sides as to who was right or wrong in this story, but rather let the audience decide for themselves what they thought the right choices should be. Mark Wahlberg and Rose Byrne lead this film and they actually have surprisingly great on-screen chemistry. Even though I believe they both sold their roles very well and seemed to be completely invested, I believe the standout performance came from the oldest daughter in Isabela Moner. Not having seen much of her in the past, I must admit I wasn't expecting her performance to be as good as it was. She portrayed someone who would be in this position in such a believable and real way. Yes, the movie is slightly tame so that it's accessible to everyone, but that's not a negative towards this film at all. For the material she was given, I was emotionally invested from beginning to end. Being directed by Sean Anders, I had very little faith that I'd like this film, because his work on Daddy's Home, Horrible Bosses 2, and That's My Boy was pretty less than stellar, at least in my opinion. Luckily, even directors who have had a streak of weak pictures can have a good day at the office and I believe he knocked this one out of the park. I had pretty much counted out ever hyping up one of his future films, but I'll now be awaiting his next career choice. I usually find myself saying the opposite about filmmakers, but I honestly can't express how much this film caught me by surprise. Instant Family may not have been a film on your radar, but it should be. Filled with emotion, comedy in the right places, and an overall dramatic tone that I think many viewers will fall in love with, this film comes very highly recommended from me. Yes, it's predictable and yes it doesn't take many risks, but the execution of each storyline is extremely commendable. At its core, this film is an ad for adopting children, but it does such a great job telling this story that the ad feels like a worthy conclusion to the movie. I loved watching this movie. Instant Family deserves your attention.
Instant Family Quotes
There are no approved quotes yet for this movie.