Interiors
(1978)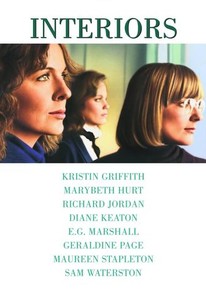 Movie Info
When a wealthy man leaves his emotionally disturbed wife, the couple's three adult daughters, each burdened with their own neuroses, attempt to come to their mother's aid. Director Woody Allen's first foray into serious drama was alternately acclaimed for its strong performances and criticized for its pretensions.
Critic Reviews for Interiors
Audience Reviews for Interiors
Allen's most serious film up to this point was the year's previous "Annie Hall," which wasn't nearly as dramatic as this. Veering headfirst into the realm of Chekhovian drama, Allen tells the story of three repressed sisters who are all dealing with their parents' separation in different ways. Each has their own burden to bear: one is young and impressionable, another is pretentious about her own work and it's affecting her marriage, and another is stuck between caring for a mother she despises and pleasing a father who frequently lets them all down. Time moves at a quick, fluid pace, much like a Chekhov's work; which was the direct inspiration for this film. There's also only diegetic music, and often Allen uses long takes of silent scenes of nature, especially waves crashing against the beach. Though this film is assured and crafted carefully, it doesn't engage in the same way as Allen's other works. It's such an astringent film, that there's little room for humor or joy. Every character feels so repressed that it's almost unrealistic. Their severity of character hampers the film by trying too hard, and not being completely realistic.
Spencer S.
Super Reviewer
The darkest and coldest Woody Allen film I've seen to date. It's high drama, courtesy of Ingmar Bergman. The sophistication is less polished than in Match Point, and rightfully so, since the cracks in this family's veneer are more due to internal turmoil (duh, the title) than external affairs and atmospheres. I love all the silence and noise: the angry scratches of pencil on paper, the sticky screech of unrolling duct tape on window cracks. Although some commenters on IMDb are not fond of Diane Keaton's performance, I think she (and Geraldine Page) present an acting master class. Renata's first monologue just floors me. Keaton's eyes skitter just enough - to her therapist (I'm assuming), to her hands, to the window - to reveal the insecurity that she dare not show often as the eldest child. She uses her cigarettes well too. She holds it nervously in the aforementioned monologue, and in the scene in which the father (played by Juror #4!) reveals his plans to strike out on his own, she ashes her cigarette by rolling it lightly repeatedly - not letting it go out - bored but listening, almost as if she expected the news and doesn't altogether blame her father for it. Since new Flixster doesn't allow comments on friends' reviews, I'd like to address a qualm Ryan Hibbett voiced in his review about how it's never explicitly shown or stated that Eve came to the beach house the night she kills herself. I do believe there is a shot of her, standing in the shadows as Joey speaks to her. Joey senses her mother there without seeing her, but Eve really IS in the house.
Alice Shen
Super Reviewer
½
Joey: I feel the need to express something, but I don't know what it is I want to express. Or how to express it. Interiors isn't your average Woody Allen film. It is a true drama, which you can't say about all that many Allen films. There is very little humor here and the humor that is in there, is between sophisticated people, about sophisticated subjects. Every single one of these characters is unlikable with only one exception, Pearl. This family is just so fucking bitchy. That is all they do, bitch. Joey has to be the most unlikable realistic woman character I have ever seen.  She is the very definition of the word bitch. She has no real creative talent, yet all she wants to do is create something. One of her sisters(Renata) is a writer, the other(Flynn), an actress. Joey bitches day and night to her boyfriend(Michael) about how great her sisters are. Then she quits every job she gets because it isn't pleasing to her. The only reason I don't like Michael is because he puts up with her. You know he is going to end up marrying her in the future and then something like the events in this movie is going to play out. The event I'm talking about is the divorce of the three sisters parents. If you see and listen to the mother, it is no real surprise why the father wanted to divorce her. The film is extremely well acted and shot, but this isn't my idea of a good movie. It is just way to dull. The only way to describe this movie, is being stuck at you grandma's house with no tv and it is raining outside. The characters, when they aren't bitching, talk about the most uninteresting things, like interior design and their latest book that didn't do well. Despite how much I dislike it, I still found it easy to watch because Allen's writing is pretty good and the actors all do a good job bringing to life their ugly characters. It isn't a movie I would ever watch again, but every Woody Allen movie deserves one viewing.
Melvin White
Super Reviewer
Interiors Quotes
There are no approved quotes yet for this movie.