Intersection
(1994)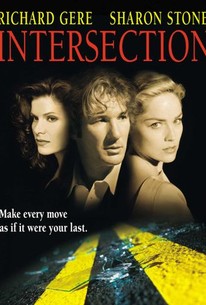 Movie Info
A man who may be on the verge of death quickly takes a thorough look at his life in this drama. Vincent Eastman (Richard Gere) is speeding along a mountain road in Canada when, while swerving to avoid a stalled van, he discovers that he's about to run headfirst into a trailer truck. As he's about to suffer a potentially fatal accident, Vincent finds himself flashing back on the events of his life -- most notably his relationships with his wife Sally (Sharon Stone), his mistress Olivia (Lolita Davidovich), and his daughter Meaghan (Jenny Morrison). While Vincent genuinely cares for Sally, he finds her cold and unemotional, but while the free-spirited Olivia has a passion for life that Sally lacks, Vincent can't bring himself to leave his wife for her. All parties involved feel that Vincent is hurting Meaghan with his inability to commit himself one way or the other, and his friend Neal (Martin Landau), a partner in his architectural firm, warns him that it is wrong for a man to live under two roofs at once. Intersection was an American adaptation of the 1970 French drama Les Choses de la Vie.
Critic Reviews for Intersection
Audience Reviews for Intersection
½
I picked this one up as an ex-rental as it was only $2, and I felt like good thriller. Well... this wasn't that... more a drama than I would have exopected from the cover. Not much to keep me in suspense, or really care less, quite honestly. It wasn't awful, but it was a bit confusing, chopping back in time (or maybe just not interesting enough to keep my attention focused!). Sharon Stone was the best in it. Her acting is pretty good here. Richard Gere I don't like, and this one hasn't changed my opinion. Lolita Davidovich, just so so, not overly convincing in the role, but okay. The main one of interest was a quite young "Jenny" Morrison (as she is credited here!). Ending is good, kind of makes up for a very average movie, but still not enough to have made me glad I sat and watched it. Think I will give this one to my mother, she thinks Richard is a babe (gag!).
Nicki Marie
Super Reviewer
Strange film that's more perplexing than riveting.
Tim Salmons
Super Reviewer
½
Not bad, I like Richard Gere.
Intersection Quotes
There are no approved quotes yet for this movie.