Interview with the Assassin
(2002)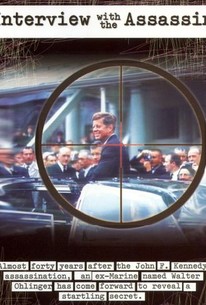 Interview with the Assassin Photos
Movie Info
The old man who lives across the street, Walter Ohlinger (Raymond J. Barry), invites his neighbor, Ron Kobeleski (Dylan Haggerty), over because he has a secret that he's never told anyone: He claims he was the grassy knoll assassin who shot John F. Kennedy and wants Haggerty to document his confession. He has the bullet casing which he saved and says there is one witness left alive who can prove his story. The two search for the man that hired Ohlinger, but are thwarted by mysterious forces who seemingly wish to keep Ohlinger's story suppressed. Interview With the Assassin is shot almost completely from the perspective of Haggerty's video camera and it ties in a number of well-known Kennedy-assassination-related conspiracy theories, though doesn't mix them all up like Oliver Stone's JFK.
Critic Reviews for Interview with the Assassin
Audience Reviews for Interview with the Assassin
loved the concept....effective camera work and superior acting by Barry..this makes the film all the more believable and is a chilling variation on the JFK conspiracy
Intriguing enough mock doc about JFK's second shooter is propelled by performances.
William Goss
Super Reviewer
Interview with the Assassin Quotes
There are no approved quotes yet for this movie.