Interview with the Vampire
(1994)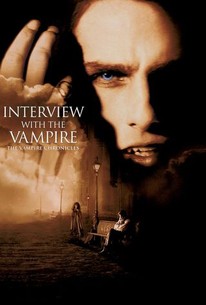 TOMATOMETER
AUDIENCE SCORE
Critic Consensus: Despite lacking some of the book's subtler shadings, and suffering from some clumsy casting, Interview with a Vampire benefits from Neil Jordan's atmospheric direction and a surfeit of gothic thrills.
Interview with the Vampire Videos
Interview with the Vampire Photos
Movie Info
Anne Rice's best-selling romantic horror tale about the origins of a centuries-old vampire inspired this popular, atmospheric chiller. One of director Neil Jordan's major Hollywood productions, the film stays close to its source material, retaining the frame of a young reporter (Christian Slater) interviewing a man who claims to be a 200-year-old vampire. The man, Louis (Brad Pitt), shares his story, beginning in 18th-century New Orleans with his first encounters with the charismatic and decadent vampire Lestat (Tom Cruise). Lestat converts Louis to blood-sucking and immortality, but Louis fails to adopt Lestat's cavalier attitude, instead tormenting himself with guilt over his new nature. The two vampires remain deeply, if reluctantly, connected over the years, while becoming intimately involved with others of their kind, including Claudia (Kirsten Dunst), a mature immortal in a young child's body. Fans of the novel raised numerous objections, particularly after Rice initially spoke out against the casting of Cruise as Lestat; further casting difficulties followed the death of River Phoenix, whose role as the interviewer was assumed by Christian Slater. Rice later recanted her objections, and the combination of thrills and gothic romance proved popular with audiences. ~ Judd Blaise, Rovi
Critic Reviews for Interview with the Vampire
Audience Reviews for Interview with the Vampire
½
A gloomy, romantic vampire story with an elegant dialogue and a sensual Gothic atmosphere that makes us want to know more and more about those dark creatures. Still, the film suffers from some serious miscasting - except for Dunst, who is pretty good.
Carlos Magalhães
Super Reviewer
½
Action-packed from first to last. Tom Cruise is so good at being a psycho. How did we not see this earlier??
Letitia Lew
Super Reviewer
½
A vampire from born in New Orleans in the 18th century tells the tale of his life to an incredulous reporter. Anne Rice's own adaptation of her novel is quite literary which tempers the melodrama to give it quite a theatrical feel, added to by a good supporting cast; Tom Cruise actually gives one of his more characterful performances and is clearly enjoying himself as the rakish Lestat. It's obviously mainly about the eye candy and gothic romanticism for the benefit of the ladies, but there is also some great period detail and interesting themes running through it; particularly the eternal child and links between voyeurism and violence. A VERY young Kirsten Dunst gives a mature performance as Louie's unwilling child/love although I felt Banderas' character was underused. It's brooding, atmospheric and has a nice line in black but playful humour and is far superior to the vast majority of it's many, many copycats.
Interview with the Vampire Quotes
| | |
| --- | --- |
| Louis: | My God, I've failed again. |
| | |
| --- | --- |
| Claudia: | Which of you did it? Which of you made me the way I am? |
| | |
| --- | --- |
| Claudia: | You dress me like a doll. You make my hair like a doll. Why? You want me to be a doll forever?! |
| Louis: | Claudia ~ don't... |
| Louis: | Claudia, don't. |
| Claudia: | WHY NOT?! (cuts her hair) Can't I change like everybody else? |
| Claudia: | Why not? Can't I change like everybody else? |
| | |
| --- | --- |
| Lestat: | I enjoy it. Take you aesthete's taste to purer things. Kill them swiftly if you will, but do it! For now doubt, you are a killer, Louis! |