Intimate Strangers
(2003)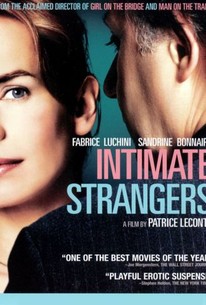 TOMATOMETER
AUDIENCE SCORE
Critic Consensus: Intimate Strangers is Hitchcockian noir with a Gallic twist: Rather than simply imitating the genre's form, director/screenwriter Patrice Leconte delves into the underlying psychological drama.
Intimate Strangers Photos
Movie Info
A disturbed-looking woman named Anna enters a Paris apartment building where white-collar professionals conduct business from their homes. The concierge--whose chronic involvement in a dopey soap opera is a wink to the melodrama at work in ordinary lives--tells her that Dr. Monnier's practice is on the fifth floor. Anna takes the elevator, chooses a door and is admitted by William, whose secretary has left for the day. Obviously upset, Anna explains it's an emergency. With minimum prompting from William, she quickly reveals she's been married for four years and works in an upscale luggage boutique. Her husband is unemployed, and, although their love life was formerly quite satisfying, they haven't had sex for six months. She thinks she's going crazy. Talking seems to make Anna feel better and she spontaneously proposes a date and time for their next appointment. She then leaves without having given her name or phone number. Later, William explains his predicament to ex-wife Jeanne; the audience discovers that although he does have a couch in his office and there was a book about psychoanalysis on his desk, William is actually a financial planner specializing in tax problems. Psychiatrist Dr. Monnier, whom Anna meant to see, has an office a few doors down on the same floor. Jeanne, who's traded in the unassuming and fastidious William for outgoing hulk Luc, tells her former love that he must come clean. But although William does his level best to remedy the misunderstanding, Anna doesn't let him get a word in edgewise on her subsequent visit as she spills ever more intimate details about her private life.
Critic Reviews for Intimate Strangers
Audience Reviews for Intimate Strangers
erika bruhns
Super Reviewer
Literally, "Too Intimate Confidences", this is a quiet tale of mistaken identity that becomes a deep and lasting friendship. Sandrine Bonnaire is radiant as Anna, a woman who seeks the help of a therapist and accidentally (?) winds up in the office of a tax attorney, William (Fabrice Luchini), where she dumps a load of emotional freight before he realizes her mistake. What develops flows from that initial misunderstanding and was a pure joy to watch, from the clucking reluctance of his secretary, to the helpful advice from the therapist down the hall, to that of his ex-girlfriend. The story moved naturally, if haltingly, as these two lonely people learned to listen to each other and grew to trust one another. This is about following one's heart, pursuing one's dreams, and learning to really care about another person. Both of these characters have emotional voids and it is engrossing to watch those vulnerabilities play out before us. Beautifully filmed, marvelous editing, and a script that was properly nuanced to give the viewer enough to keep one interested, but not so much that it became predictable. The supporting cast was marvelous, with each character bringing something important to the mix. Of particular note, Urbain Cancelier, as one of the good doctor's patients, played the grocer in Amelie, and this viewer thought how fitting he would wind up in therapy after Amelie got through with him!
Mark Abell
Super Reviewer
Really NOT what I was originally expecting. This felt like 1h43mins of a tedious soap opera. Yes, it was highly melodramatic, and failed at being anywhere near artistic. Definitely a forgettable film.
Intimate Strangers Quotes
| | |
| --- | --- |
| William: | The more I see her, the less I know what's going on. |
| | |
| --- | --- |
| William: | Taxes tell a life story. It's all there. Birth, marriage, divorce, successes, failures and death. |